Roman Gnaegi and Catia Confortini
As members of the Medact Research Network (MRN), writing the chapter "Conflict and Health in the Era of Coronavirus" for Global Health Watch 6 was a great opportunity to collaborate in a dedicated, motivated team and learn from each other's rich experiences and perspectives.
The MRN is over two years old and now consists of over 400 people from across the health sector. A diverse group of us from the network began meeting in mid-2020 to work on Global Health Watch 6, including active and retired health workers, academics and students working on global health issues within their own fields. Because we were quite spread out geographically with some members calling in from overseas – and of course living through a global pandemic – all our meetings were held online. Early discussions revolved around the purpose of Global Health Watch, which serves as a sort of civil society-led shadow to the World Health Organisation's annual World Health Report, and how to approach our topic. Initially, this was presented in very broad strokes as being about health and conflict in today's global landscape.
This expansive scope presented us with the challenge of deciding what to focus on and the question of how to do justice to the breadth and depth of such an enormous, varied and complex topic, within a global perspective, whilst also incorporating detail and case studies showing resistance and hope. The volume's editors provided helpful guidance and we studied previous editions of Global Health Watch to understand the foundations on which we were building. Members of the group had diverse specialisms and interests. After a first phase of agreeing on our general direction for the chapter, smaller writing teams independently focussed on their areas of expertise and interest to contribute individual sections or boxes. Besides writing their own section, Medact Research Manager Hil Aked also shaped the collective qualities of our work process and turned individual sections into a coherent whole.
Topics included the dynamics of coronavirus and ongoing conflicts and how they relate to health, the need for bottom-up interventions to complement a predominantly top-down agenda in international peacebuilding, and the harmful proliferation of nuclear and non-nuclear arms – often at the cost of much-needed spending on healthcare or humanitarian aid. What emerged as the central argument of our chapter was not a rejection of the mainstream Sustainable Development Goal (SDG) agenda for peacebuilding and health, but rather a call towards creating an approach that significantly includes and better complements local voices and expertise. Also, importantly, the international community needs to be held accountable for its failures to live up to its own ideals in recent and present conflicts – Yemen and Syria served as our key examples – and the health community has an important role to play in such global accountability.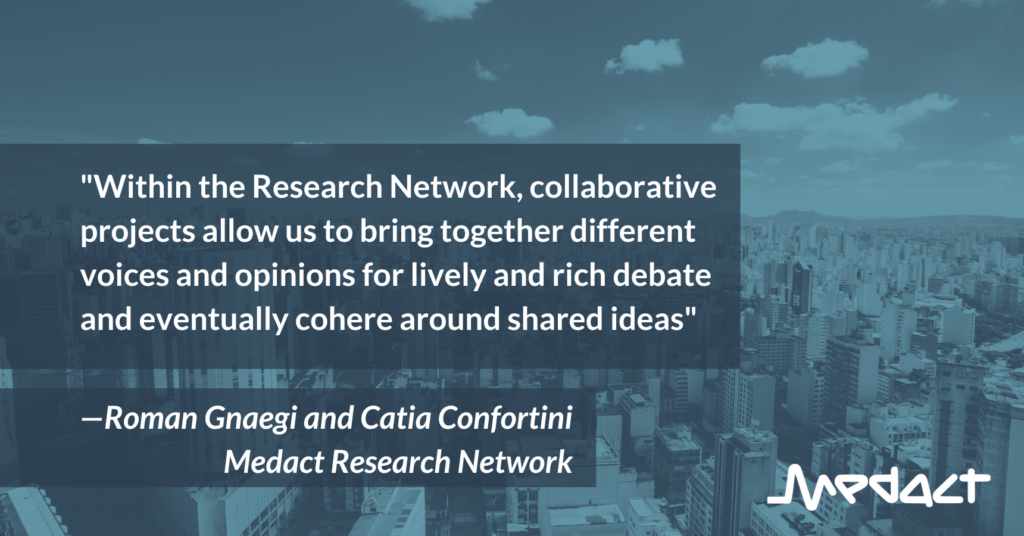 While the process from our earliest mid-2020 meetings, through the final editing of the chapter by team members in early 2021 to last month's official launch, was a long one, it was also very rewarding on a number of levels. Within the Research Network, collaborative projects such as this allow us to bring together different voices and opinions for lively and rich debate and eventually cohere around shared ideas.
Throughout our work together, the commitment of the Medact team and other research network members, and the passion for topics of global health and conflict, were impressive, and they strengthened our motivation to make this contribution to the debate. For instance, we saw other groups from the research network produce brilliant briefings like Health Versus Wealth? UK economic policy and public health during COVID-19, Play the health card – the case for climate & health justice at the UN Climate Talks, and The Public Health Case Against the Policing Bill. Working on the Global Health Watch 6 chapter also enabled those members of our group who had less experience with research projects to learn important lessons for their future work from more experienced members.
Finally, it was a pleasure to be part of an always supportive and kind team that was willing to overcome the challenges of seeing through this volunteer work over such an extended period of time during the COVID-19 pandemic, when the pervasive sense of isolation made the joy of collaboration even greater. We'd strongly recommend getting involved in Medact's Research Network to anyone interested – and hope to work on a future project with you soon.
Sign up to get involved in the Medact Research Network.
Buy your copy of Global Health Watch 6 from Medact at a discounted rate.
Watch MRN members and other great speakers discuss the book at the UK launch event or listen to a podcast version.