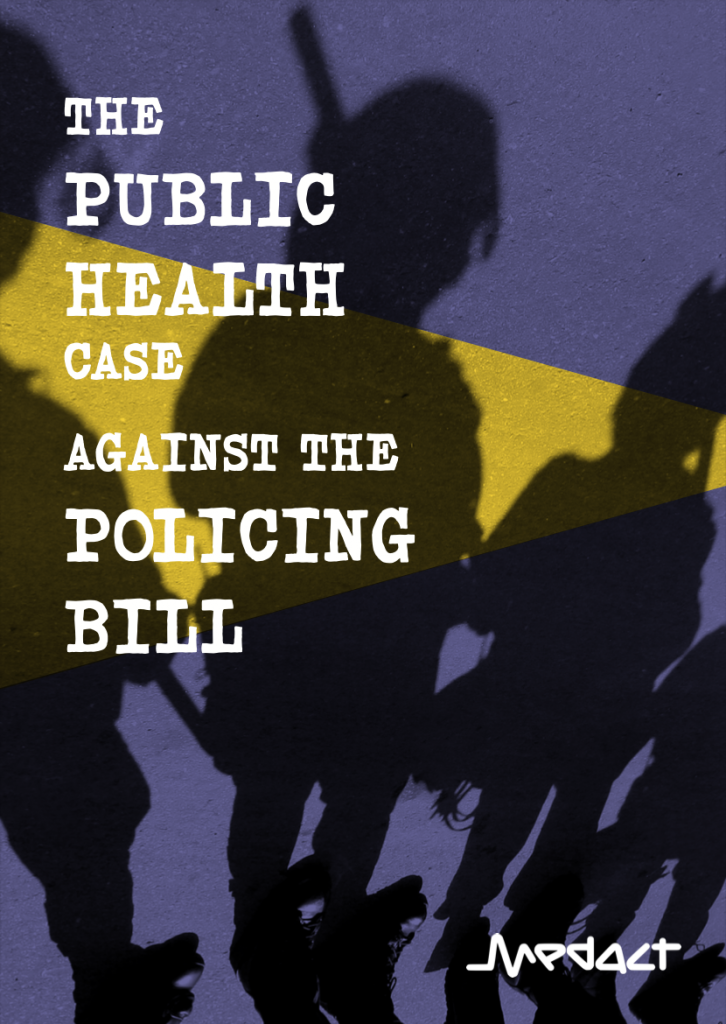 Medact's new briefing The Public Health Case Against the Policing Bill critiques the Police, Crime, Sentencing and Courts Bill, also known as the Policing Bill, from the perspective of public health.
Written by members of the Medact Research Network, the briefing:
Rejects attempts to co-opt public health language to sell the PCSC Bill and argues that its expansion of police power and prisons will in fact harm public health

Unpacks the ways the bill will disproportionately impact racially minoritised groups who already experience worse health outcomes

Argues that the bill's punitive criminal justice measures merely address symptoms and will perpetuate a harmful cycle of criminalisation, exclusion and poor health

Shows that 'Serious Violence Reduction Orders', the 'Serious Violence Duty', and the authoritarian repression of protest, will not make us safer but instead undermine confidentiality, erode trust and undermine access to healthcare

Urges the UK health community to take racism and state violence seriously, push back against the securitisation of healthcare, and engage with more effective, compassionate and just visions of public health involving real upstream prevention – such as the American Public Health Association's recent call to move away from carceral systems and build "just and equitable structures that advance the public's health".
Download the briefingWatch the launch event recording
Co-authors: Hil Aked, Mwenza Blell, Rebekah Cheung-Judge, Esther Kaner, Kavian Kulasabanathan, Charlotte Palmer, Christen van den Berghe and Jordan Wondrack.