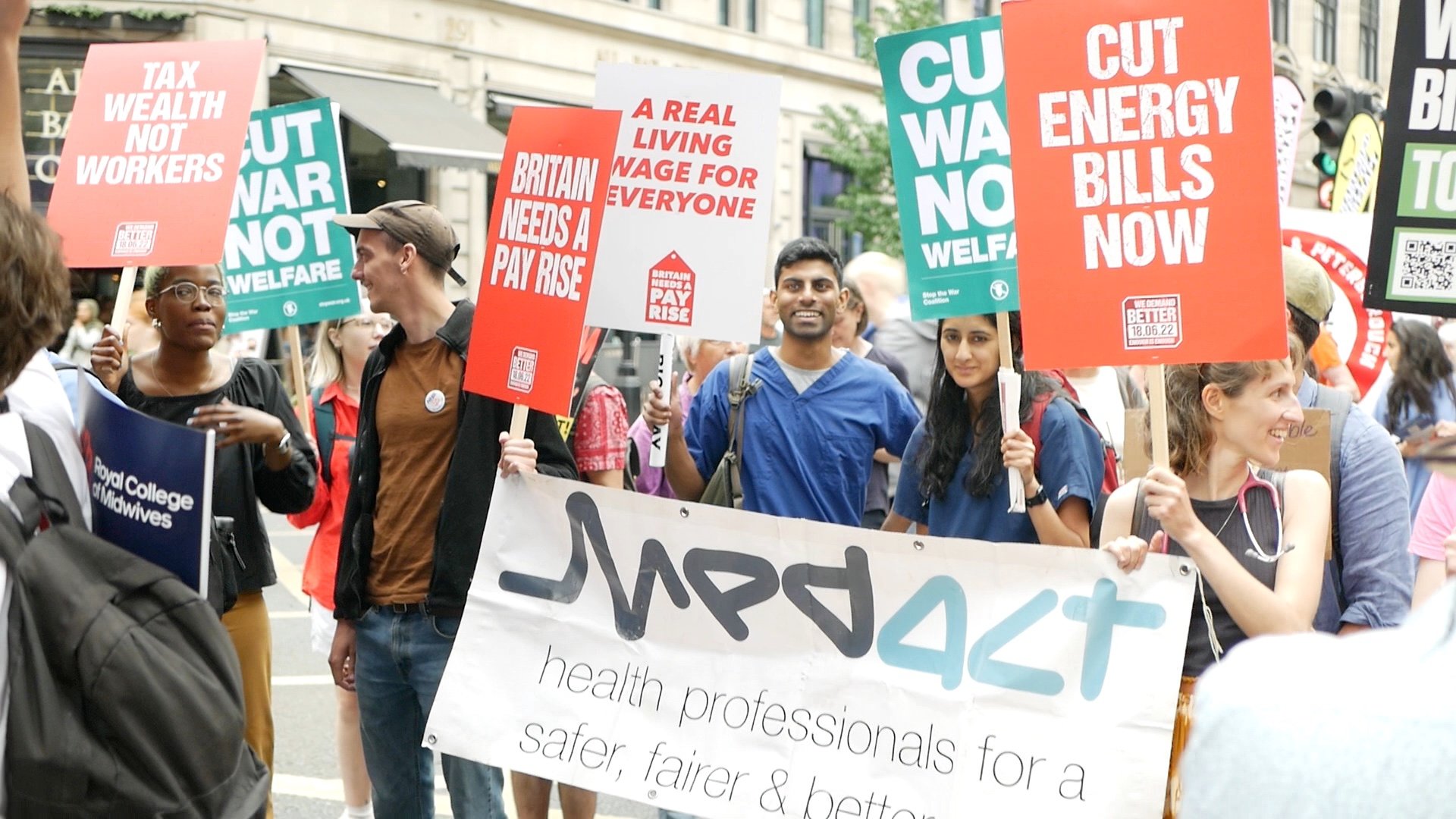 Economic Justice
Our economic system is making people sick. Gross inequality leads to unequal health outcomes. But this is not inevitable: we have the power to change the system.
Today in the UK, one of the richest countries in the world, millions struggle to survive with insecure jobs and precarious housing. Social welfare measures have been systematically torn apart.
We know that these economic inequalities drive health inequalities. Health workers witness the toll that poverty and economic insecurity has on patients every day. And we know that people living in the poorest areas are dying years earlier than those in wealthier areas.
This health injustice will persist as long as there is no economic justice.
That's why we're campaigning to transform the economy into a system that enables everybody to live healthy and dignified lives, in the UK and around the world. We want an economy that puts people and planet before profit. Our Economic Justice Group launched in 2020, bringing members of the health community together to call for wide-ranging economic changes and justice for local communities. We've campaigned for rent relief in the pandemic, and stood in solidarity with hospital cleaners and other outsourced staff fighting for better pay and conditions.
We are mobilising health workers across the UK to call for a comprehensive public health response to gross inequalities, which have only been made worse by the COVID-19 pandemic, and which disproportionately affect those with the most structural disadvantage.
We do research and seek to educate, and we work with ally groups to campaign for policies that will improve the economy and our health as a society.
Join us!
As an essential part of our mission to win economic transformation, we stand with and actively support those communities fighting for economic justice who are deeply affected by forms of structural oppression which drive inequality.
Everyone who works in health is welcome to join, whether you are a nurse, a porter or a public health researcher! Sign up using the form below to hear about how to get involved. If you have any questions about getting involved, please email [email protected]!
To get involved, sign up for updates below or get in touch!
Events coming up
Latest news
Campaigns and projects
Housing and Health organising
Harrow, London
In Northwest London, our group organiser and members are now working with Harrow residents, in partnership with Harrow Law Centre, to support those residents experiencing health conditions as a result of poor and insecure housing. The objective is to start identifying buildings with tenants experiencing health issues as a result of the poor conditions of their homes, gather health data, support tenants organise around these issues, then use this case studies to call for systemic interventions that address the structural causes of the housing crisis through advocacy and campaigning work.
Druids Heath, Birmingham
The Economic Justice & Health group is currently working in Birmingham to support the Druids Heath Community Forum and their Build First campaign – a community campaign organising against the demolition of council housing in Druids Heath. The campaign's main purpose is not only to ensure alternative council housing, but propose community plans that are led and shaped by the affected community and address existing health inequalities in the area. We are working alongside the New Economics Foundation (NEF).
Homes for Us Coalition
The New Economics Foundation, along with a coalition of housing organisations have launched Homes for Us, a 5-year programme to reimagine, revitalise and rebuild social housing in the UK. "Homes For Us" will organise and train local groups to win change at a national level. Medact Economic Justice & Health group members are helping ensure that public health is central to this work.
Cost of Living Crisis
We are looking to support health workers to speak up about the impact of the current cost of living crisis. We are working to develop a network of people with the skills and knowledge to speak about economic justice issues on different platforms and in different contexts. This will be part of Medact's wider cost of living communications over the next few months.
Resources
A People's Economy: economic justice & health booklets

Health Versus Wealth? UK economic policy and public health during COVID-19
Medact Economic Justice Media
Get in touch!
Contact Medact's Campaign Lead for Economic Justice & Health Jordi López at [email protected].