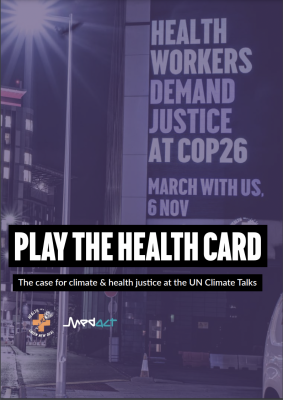 'Play the health card the case for climate & health justice at the UN Climate Talks' was written to lay out the reasoning behind the demands of the Health for a Green New Deal campaign in the run up to the COP26 UN Climate Talks in Glasgow in November 2021. It is an update on our previous briefing, 'Health & Climate Justice at COP 26'.
Specifically, this briefing highlights the health-justice case for urgent action – a move oil and gas lobbyist representing companies like Exxon Mobil, while seeking to undermine climate and health research, once infamously called "playing the health card".
The need for immediate and transformative action has never been clearer. Yet despite its rhetoric of "leading the way" on decarbonisation, the actions of the UK government fail to measure up to the scale of the challenge faced.
'Play the health card' sets out four key policy demands to which the UK government must commit in order to achieve the just, sustainable, transformative change required to minimise catastrophic climate change. These demands are:
Reduce emissions in line with the UK's historic climate debt, recognising the economic legacy of early industrialisation and colonial exploitation, and financially support Global South countries to reduce their emissions and mitigate the effects of climate change
Rapidly transition to a zero-carbon economy that does not further exploit Indigenous communities and Global South countries through natural resource extraction
Immediately end all domestic and international financial, regulatory, and legislative support for new fossil fuel extraction projects
Completely insulate the COP26 talks from the influence of highly polluting industries, following the approach taken by the UN Framework Convention on Tobacco Control toward the tobacco industry
The primary authors of this briefing are Alistair Wardrope, Tess Mattam, Mehajabeen Farid, Lou Whitton, Andrew Harmer, Fredrika Collins, Aarash Saleh, Rob Abrams and Hil Aked.
Find out more about the Medact Research Network