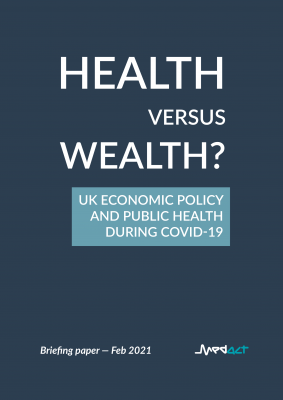 In this new briefing, our Economic Justice & Health Group shine a light on the UK government's assumption that the health of the public and the economy are in tension.
The briefing argues that this assumption is a dangerous false dichotomy, and that our economy should prioritise public health and health equity as inherently valuable social assets.
It also charts the history of policies that weakened the social immunity of the UK, laying the ground for one of the highest death tolls from Covid-19 in the world at the same time as one of the deepest economic recession among the world's wealthiest countries.
Importantly it also points to what needs to be done now to protect lives and livelihoods and address health inequalities at their roots.
This briefing was written by Hilary Aked, Emma Bridger, Daniel J Carter, Siddhartha Mehta, Monica Sharman, Hannah Talwar, Max Thoburn, Amaran Uthayakumar-Cumarasamy – members of the Medact Economic Justice & Health Research Cluster.
Find out more about the Medact Research Network