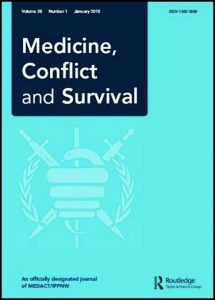 Medicine, Conflict and Survival is an international journal for all those interested in health aspects of violence and human rights. MCS is the designated journal of Medact and its international partner IPPNW. It was founded in 1985 and was originally published under the title of Medicine and War. It is published quarterly by Routledge.
It publishes material on the following issues:
The causes and consequences of war and group violence.
The health and environmental effects of war and preparations for war, especially from nuclear, radiological, chemical and biological weapons of mass destruction.
The influence of war and preparations for war on health and welfare services and the distribution of global resources
The abuse of human rights, its occurrence, causes and consequences.
The ethical responsibility of health professionals in relation to war, social violence and human rights abuses.
Non-violent methods of conflict resolution.
Medical and humanitarian aid in conflict situations.
Relationships between the environment, development and global security.
The roles and responsibilities of governments and of international governance in reducing the risk of violent conflict
One article from each issue of Medicine, Conflict and Survival is made freely available on-line.
To visit the Medicine, Conflict and Survival website on Routledge click here.
Medicine, Conflict and Survival is administrated by Medact.