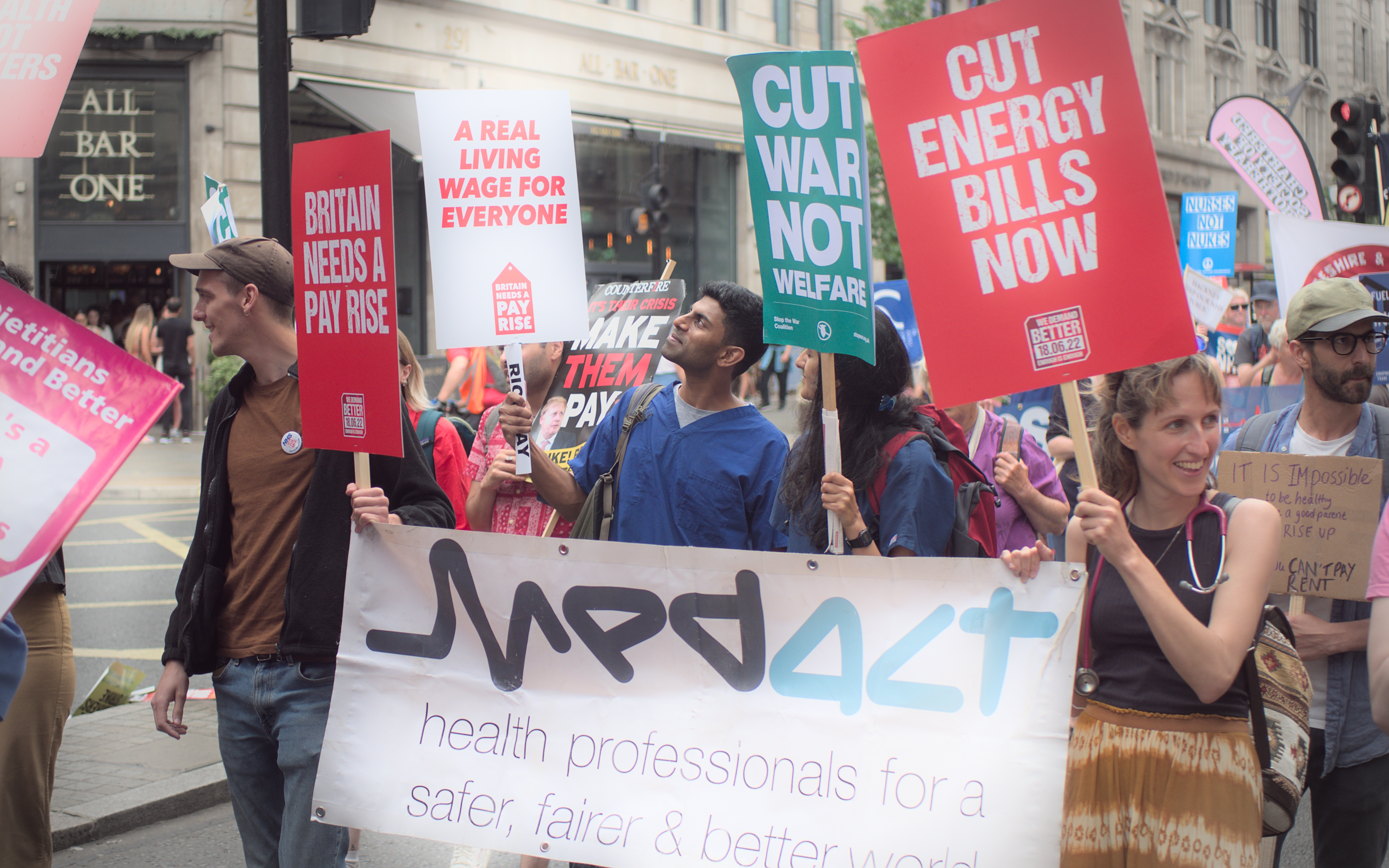 Our work
Health injustice is driven by political, social and economic conditions. Our campaigns organise for systems change to win justice.
Donate
By donating, you will support all of our member-led campaigns by helping to fund the training, events and resources we need to build health-worker power.
Our members
Monica Sharman

"Through Medact I am developing a deeper understanding of health injustice, and learning the skills to challenge it. It's been incredible to do this work alongside such a compassionate team of people who inspire me to believe that a fairer world is possible."

Rebekah Cheung Judge

"Being a Medact member gives us the opportunity to join together as a community of healthcare practitioners to affect the sociopolitical determinants of health which we see play out every day in the lives of our patients."

Calum Barnes

"As a doctor, being a Medact member is a way of advocating for my patients. Being part of a movement toward social justice has given me purpose and identity in a time where it is otherwise only too easy to feel helpless."

Michael Orgel

"I've been a member of Medact and its predecessor MCANW for decades, trying to counter the existential risk of nuclear weapons. We need to eliminate them before they eliminate us – and the funds saved could help ensure healthcare is a right not a privilege."
Become a Medact member now
Value statement about why should deffo be a member
Some key info about membership, like that its about giving us money
Take action!
Sign our letter to let King's College Hospital NHS Trust know that you believe everyone should be able to access the care they need, regardless of immigration status or ability to pay. 

We as health workers are demanding that the council Build 1ST before any further Druids Heath tenants are evicted from their current homes.

For the sake of public health, it's time that Mayor Sadiq Khan cancels the Silvertown Tunnel, and lives up to his own call for a Green New Deal for London. If you're a member of the health community living or working in London, please sign the letter below and share it with your colleagues!
Our work
Our economic system is making people sick. Gross inequality leads to unequal health outcomes. But this is not inevitable: we have the power to change the system. Today in the … Read more