Medact's work to improve hospital food follows from our new report, "Digesting The Indigestible". But if you want to take more direct action, there is also our Campaign Toolkit, with plenty of ideas, inspiration and actions you can take to campaign for better hospital food in your area.
Here are the five simplest steps you can take to campaign for better better hospital food in your area.
1. Watch our key hospital food facts video
If you want to understand the main issues at stake, then watch our key facts video for a short, sharp introduction. If you have an online employee message board, intranet, or are part of work Facebook or Whatsapp group, share our key facts video there too.
Hospital food campaign: Help make hospital food healthier, tastier and more sustainable
2. Share with your friends on social media
Spread the word online by sharing and retweeting our Campaigner's Toolkit to let other's who are passionate about can join the movement.
3. Spread the word in your hospitals
Our toolkit contains a poster with key facts about why it's important to campaign for better hospital food. Print out this poster and put it up in your staff areas or canteen, so that everyone can be made aware and join your campaign.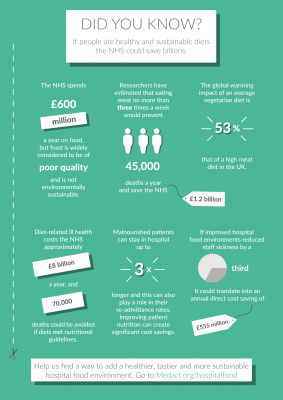 4. Get inspiration for your campaign
Learn what it takes to build better hospital food environments from those who have improved theirs. Read about the great work being done at places like Nottingham University Hospital and North Bristol NHS Trust to get inspiration for your own campaign.
5. Compare your hospital's performance
Now that you've seen what other hospitals can achieve with their food environments, Find out about how your hospital compares. My NHS tracks the performance of hospitals across the UK in terms of quality, choice and cost. How does your hospital fare?
---
This article is part of Medact's campaign to make hospital food tastier, healthier and more sustainable. If you want to take action to promote change in your hospital, download our Campaign Toolkit.
If you're interested in the legislation, policies and guidelines provided to hospitals regarding their food provision and procurement, download the "Digesting the Indigestible" report.