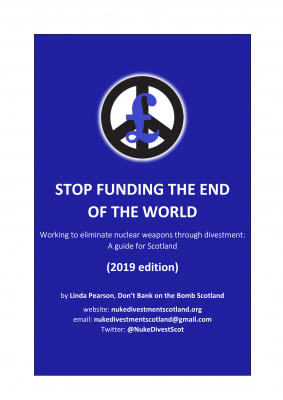 Nuclear weapons are banned under the UN Treaty on the Prohibition of Nuclear Weapons, which is set to enter info force in 2020. Yet nuclear-armed states continue to modernise their arsenals at an expected cost of US$1.7 trillion over the next 30 years. Now is the time to stop this nuclear insanity and that means we must pressure our banks, pension funds and universities to stop investing in nuclear weapons.
Everyone can play a part in the divestment campaign and Don't Bank on the Bomb Scotland's guide is intended to be a resource for those who wish to engage with Scottish organisations about nuclear weapons divestment.
You can also:
Don't Bank on the Bomb Scotland is a network of individuals campaigning for Scottish organisations and financial institutions to divest from companies that are involved in the production and maintenance of nuclear weapons and their delivery systems. We are part of the International Campaign to Abolish Nuclear Weapons (ICAN) network in Scotland.