The USA and Europe are currently experiencing the greatest impacts from COVID-19. But case numbers are also rising in regions where past and ongoing armed conflict and militarised violence have led to the destruction or deterioration of public health infrastructures. This should be a cause for extreme concern. 
COVID-19 under Occupation
An example of this is in Palestine. To date, 15 people have tested positive for COVID-19 in Gaza according to the Palestinian Ministry of Health in Gaza, and there have been around 400 cases of the virus in the West Bank. 
In 2012, a UN report declared that without significant changes Gaza would be unlivable by 2020. Gaza is one of the most densely populated regions in the world, and has been under a tight Israeli blockade since 2007. The economic collapse following blockade has led to nearly half of the population being unemployed, and 70% lacking secure access to food.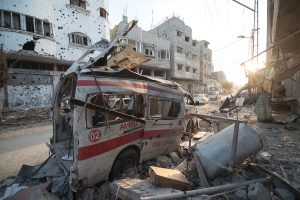 The siege has decimated public infrastructure, including the welfare and health systems. These problems have been further exacerbated by frequent Israeli attacks. In 2014 alone, bombings by Israel damaged or destroyed 17 hospitals, 56 primary healthcare facilities and 45 ambulances. There is also an acute water crisis in Gaza. 
Gaza's health system as it exists now is not able to handle another health crisis. Last week, Gaza ran out of testing kits, and subsequently received five test kits – which would allow for the testing of around 500 people – from the World Health Organisation (WHO). Gaza currently has just 87 ventilators, of which 80-90% are currently in use, leading the health minister to call for the international community to provide 100 ventilators and 140 intensive care beds. 
Medact joined 18 international health and human rights organisations in calling for the siege on Gaza to be lifted to allow for the proper functioning of its health system, as well as demanding that Israel immediately puts measures in place to protect the the health of Palestinians and prevent the spread of the virus, as stipulated in Article 56 of the Fourth Geneva Convention.  
The legacy of war in Iraq
Meanwhile, Iraq has officially registered 1,500 cases of people contracting Covid-19, with 82 people reported to have died. Its close ties and border with Iran meant that when the outbreak began in Qom, the first cases in Iraq soon followed. However, these numbers in and of themselves have been disputed by journalists and health workers across the country, and the Iraqi Health Ministry has responded to a controversial Reuters report stating that the number of cases is between 3,000 and 9,000.  
Iraq's public health system has been severely harmed by decades of war, sanctions, corruption and chronic under-funding by the country's successive governments. This includes a reported 90% decrease in public health expenditure under Saddam Hussein between 1993-2003, and the destruction of 12% of the country's hospitals and two public health laboratories as a result of the war. 
Certain provinces do not have enough health capacity to serve the number of residents, and many hospitals are severely under-equipped. In Sadr in Baghdad, for instance, it is reported that just four hospitals serve a population of 3.5 million people. In parallel with Syria, many of the country's health workers have left due to violence and "unbearable" conditions within health facilities. The deteriorated public health system and ongoing political instability and corruption – which led to mass protests beginning in October 2019 that continue in certain regions of the country to this day – means that Iraq is particularly vulnerable to the virus. 
In the wake of war in Syria…
Although at the time of writing there are only reported to be 39 confirmed cases and three people dying of COVID-19 in Syria, just 100 people are being tested in the country a day, with half of those being in the capital Damascus. It is feared that the health system in Syria is unable to handle an outbreak of the virus, particularly as 70% of the country's health workers have fled since the war began in 2011 and less than two thirds of its hospitals were functioning by 2019. In the space of just 4 years, there have been 500 attacks on health facilities in Syria according to the WHO. 
There is particular concern over conditions in cramped displacement camps in Idlib, where physical distancing would be impossible and a shortage of clean water and sanitation services coupled with exposure to cold weather has left thousands of people in poor health. This has left those currently residing in these camps particularly vulnerable to an outbreak of the virus, without the necessary public health infrastructure to manage an outbreak or treat those affected. 
It is being reported that many Syrians who had fled Idlib because of the deadly fighting are now returning due to the risk of a Coronavirus outbreak in displacement camps. This is in spite of a very precarious ceasefire, and the risk of further bombing and attacks. It's clear that an outbreak of the virus in Syria would have a devastating impact, but uncertain that a ceasefire would hold.  
Destruction and devastation in Yemen
Since the war in Yemen began in 2015, over 100,000 people have been killed directly as a result of attacks. On top of this, the humanitarian crisis that the war has created is estimated to have led to the deaths of 85,000 more people in the region.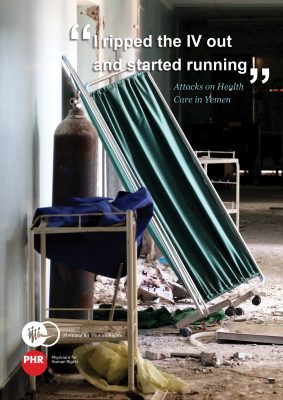 Nearly 20 million people in Yemen do not have access to basic health services, and only 50% of health facilities are functioning. From the outset of the war, until the end of 2018, there were 120 documented attacks on health facilities and workers. There have been deadly mass outbreaks of cholera, dengue fever and diphtheria. 20 million Yemenis are food insecure, with the UN reporting that 10 million of those are just a step away from famine. Two thirds of the Yemeni population are dependent on aid in order to survive.
The first case of coronavirus in Yemen was reported in early April, and has led to widespread concern within the Yemeni health community of its capacity to deal with a possible outbreak. The country has faced many epidemics, and, in the wake of the war, the health system has been unable to meet the rising need. 
The war in Yemen has created a humanitarian disaster. It is a disaster that was entirely avoidable – and could have been prevented had action been taken by the international community early on. There have been long-standing calls on countries to stop selling weapons to and impose military embargoes on Saudi Arabia, who leads the so-called 'Arab coalition' intervention in the war. The UK government was taken to court for their sale of arms – some of which have been used in attacks on civilians; the court ruled that UK ministers had illegally signed off on arms exports without properly assessing the risk to civilians.
While the Saudi-led coalition declared a two-week ceasefire in Yemen on April 9 in response to the pandemic, the coalition launched dozens of airstrikes on the country just a week later and fighting has continued. More must be done in order to secure a lasting and meaningful ceasefire. 
Calls for an immediate global ceasefire
In response to this pandemic, Medact has joined calls by hundreds of civil society organisations internationally – as well as the UN General Secretary Antonio Guterres – for an immediate global ceasefire in order for nations to work together to contain and combat the virus. 
A global ceasefire would be a good first step to easing the strain on already stretched and weakened health systems – such as those in Syria, Iraq, Libya and Yemen. But war-torn countries require much more than a ceasefire in order to be able to respond to COVID-19 outbreaks. The consequences of years of war and violence mean that they are in dire need of financial and public health resources─ such as PPE, ventilators, more and better-functioning health facilities and more healthcare staff. A ceasefire would not bring the kind of short- and long-term financial and political stability needed for certain countries to be able to adequately prepare for and respond to COVID-19. 
Alongside the ceasefire, we should be calling for justice and international measures in reparation for the suffering that the people of Iraq, Syria, Yemen, Palestine and other war-torn regions have experienced as a result of armed conflict and occupation.
In the short-term, countries must work together to ensure that the necessary medical equipment – including testing kits, PPE for frontline workers, ventilators and oxygen – is provided urgently to countries with a shortage, in collaboration with health providers on the ground. And un-tied financial resource is sorely needed in order for countries that have had their economies destroyed as a result of war to be able to provide welfare support to the millions of people who have lost or will lose crucial incomes as a result of the social distancing and isolating measures needed to curtail the spread of the virus.
The UK's role in the arms trade
Armed conflict is sustained by the global arms trade, in which the UK plays a large role. In July 2019, the UK was reported to be the world's second largest exporter of arms – at around the same time its government was told by the Court of Appeal that its sale of weapons used in Yemen to Saudi Arabia was unlawful. In 2018, the UK reported a "record" number of defence orders – with countries such as Saudi Arabia and the UAE accounting for nearly 80% of the UK's overall arms exports.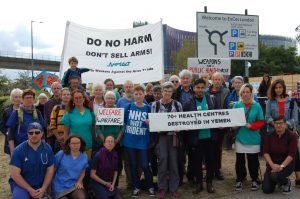 As part of the wider health community, we have called on the UK government to end its sale of arms to countries that go on to use these weapons in protracted and deadly wars, and to aim to end the UK's role in the international arms trade. 
While the UK Foreign Secretary Dominic Raab has supported calls for a global ceasefire, there has been little said about the UK's recently booming arms and defence industry's sale of weapons to countries like Saudi Arabia and the UAE. If the UK government was serious in its commitment to global public health in the short and long terms, it would take immediate steps to end its role in the arms trade. 
Swords into ploughshares: ventilators not bombs 
All this is happening at the same time the coronavirus outbreak in the UK has focused attention both on the chronic under-resourcing of our health system, and global shortages of crucial medical equipment such as ventilators. And in March, health secretary Matt Hancock responded with a dramatic call to UK industry:  "We now need any manufacturers to transform their production lines to make ventilators. We cannot make too many."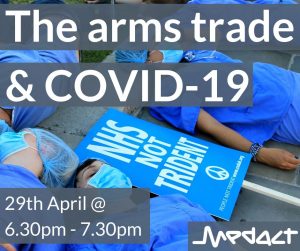 We now know that Airbus, Rolls-Royce, and Babcock ─ companies better known for their involvement in arms, drone and nuclear weapons technology  ─ have all responded to this call. But it is only after decades of neoliberalism that a drive for arms companies to convert their production to much needed and socially useful products should seem dramatic. The real wonder is how we ended up in this situation in the first place. Workers at Lucas Aerospace called for exactly this kind of arms conversion back in 1976. On 29 April 2020, Medact will be hosting a webinar with campaigners from the New Lucas Plan to discuss how we can translate the immediate steps into a longer-term shift in the way we allocate resources from destructive to socially useful and sustainable industries.
This pandemic has made clear that the structuring of our society must drastically change. Nations must see past their borders to work together to ensure the protection of global health, and strong public health systems accessible to all. We must come to understand 'security' through a different lens. War and armed conflict ─ fuelled by a booming international arms trade ─ continue to bring destruction, devastation and insecurity on a global scale. Instead, we must come to see collective and global health and well-being as the real markers of sustainable security.