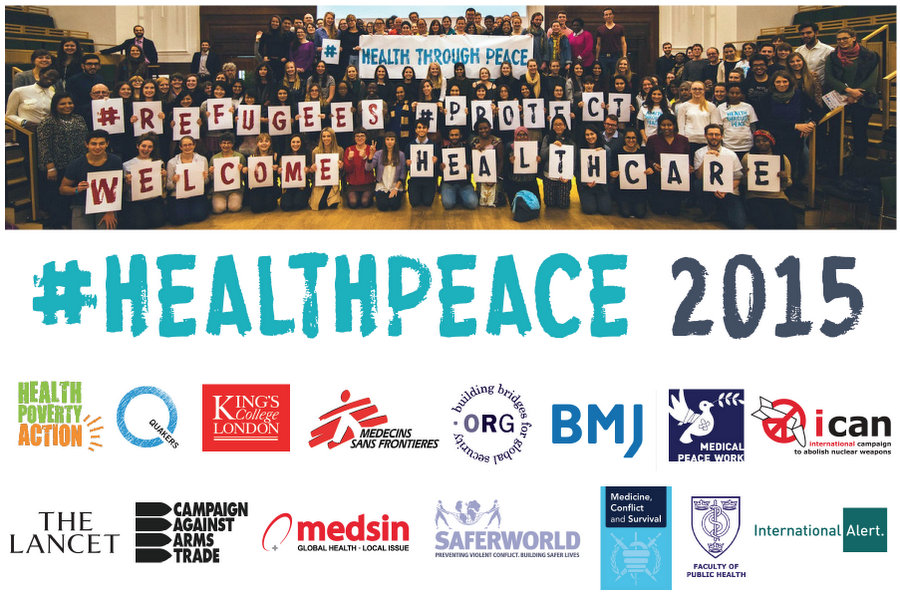 "A HEALTHY WORLD MEANS A MORE PEACEFUL AND JUST WORLD."

– Richard Horton, Editor of the Lancet
WHAT IS 'HEALTH THROUGH PEACE'?
The Health Through Peace conference was organised by Medact in November 2015, as a forum for the health community to examine and discuss the negative impact of rising levels of war, armed conflict, violence and militarism across the world on health and wellbeing.
These problems bear on the lives of hundreds of millions of people worldwide. They are being intensified by climate change, resource depletion and increasing inequality. Our response to these threats often relies on a narrow and limited idea of 'security' and the misguided belief that we can protect ourselves from complex and multi-dimensional threats by military power alone
The health community is uniquely placed to promote a more effective and holistic idea of security that is based on addressing the root drivers of war and conflict, and which builds on principles of sustainability and justice.
COULDN'T MAKE IT TO 'HEALTH THROUGH PEACE'?
If you were unable to join us then videos of a number of talks are available to watch again; audio recordings are available on Soundcloud or iTunes; or you can browse the event programme, speakers and photo gallery below.
WHAT'S NEXT?
Health Through Peace does not end here. Since the event we have been working to continue and grow the Health Through Peace movement. We are always looking for more people to get involved – if you are interested please get in touch.
"THE WORLD IS OVER-ARMED AND PEACE IS UNDERFUNDED"

— UN Secretary General Ban-Ki Moon
SPEAKERS
Some of the fantastic speakers who joined us:
Paul Rogers
Paul is Oxford Research Group's (ORG) Global Security Consultant. He has worked in the field of international security, arms control and political violence for over 30 years. Paul is Professor of Peace Studies at the University of Bradford. He lectures at universities and defence colleges in several countries and has written or edited 26 books, including 'Losing Control: Global Security in the 21st Century' (Pluto Press, 3rd edition, 2010) and 'Why We're Losing the War on Terror' (Polity, 2008). He writes Monthly Briefings analysing the international security situation, and, since October 2001, has written a series of influential reports on international security, including 'Global Security After the War on Terror' (November  2009) and 'Military Action Against Iran: Impact and Effects' (July 2010).
Twitter account: @ProfPRogers
Vivienne Nathanson
Dr Vivienne Nathanson is Senior Director at the British Medical Association. For much of her time working at the Association Vivienne has been responsible for the health of the public, ethics and human rights. In doing so she has worked closely with a series of BMA presidents and continues to do so. She is currently working with Sir Michael Marmot and the Institute for Health Equity and also with the International Committee of the Red Cross for whom she regularly lectures and writes.
Jose Antonio Bastos
Dr Jose Antonio Bastos joined MSF in 1991, while he was working as a general practitioner in Spain. He worked in Bolivia, Angola, the Democratic Republic of the Congo, Kenya, Somalia and Tanzania. After a period as head of the emergency unit at MSF's office in Barcelona, Jose Antonio worked as director of operations in Barcelona and later in Amsterdam. Between 2006 and 2010 Jose Antonio worked in Pakistan, Iraq and then Afghanistan for the International Committee of the Red Cross. He returned to MSF in 2010, as elected president of MSF Spain.
Twitter account: https://twitter.com/JoseABastos28
Richard Horton
Richard Horton (BSc MB FRCP FMedSci) was born in London and qualified in medicine from the University of Birmingham in 1986. He completed his general medical training in Birmingham before moving to the liver unit at the Royal Free Hospital. In 1990, he joined The Lancet as an assistant editor and moved to New York as North American editor in 1993. Two years later he returned to the UK to become Editor-in-Chief of the Lancet journal. He was the first President of the World Association of Medical Editors and is a Past-President of the US Council of Science Editors. He is an honorary professor at the London School of Hygiene and Tropical Medicine, University College London, and the University of Edinburgh. He is a Fellow of the Royal College of Physicians and a Founder Fellow of the UK's Academy of Medical Sciences. Richard has been a medical columnist for The Observer and writes regularly for the Times Literary Supplement and New York Review of Books.
Twitter account: @richardhorton1
Janani Vivekananda
Janani Vivekananda is responsible for research and implementation support on climate change, environmental and natural resource related dimensions of peacebuilding and security at International Alert. Her role involves leading on innovation, analysis and documentation of new research and liaising with academic, policy and practitioner communities on climate change, development, peace and security. Previously, she was a Disaster Risk Reduction Adviser at Plan International UK, Security and Peacebuilding Programme Officer at International Alert and a consultant on conflict analysis and aid effectiveness for SNV Nepal and the United Nations Development Programme (UNDP) in Nepal. She has an MSc in Violence, Conflict and Development from the School of Oriental and African Studies (SOAS) and a BA in Politics, Philosophy and Economics from New College, Oxford University.
Twitter account: @JananiAlert
Andy Haines
Professor Sir Andy Haines is Professor of Public Health and Primary Care at the London School of Hygiene & Tropical Medicine. He was the Director of the School for 10 years up to October 2010 and previously Professor of Primary Health Care and Head of the Department of Primary Care and Population Sciences, at Royal Free and University College Medical School. Sir Haines also worked internationally, including in Nepal, Jamaica, Canada and the USA.  He was a member of the UN Intergovernmental Panel on Climate Change, chaired a Task Force on Health Systems Research for WHO and sits on many national and international committees including, until recently, the WHO Advisory Committee on Health Research. Former chair of its Health and Social Care Policy Committee as well as chair of the MRC Global Health Group, he is currently a member of the UUK Board.
Ira Helfand
Ira Helfand is the past president of Physicians for Social Responsibility and is currently the co-president of the International Physicians for the Prevention of Nuclear War. He has worked for many years as an emergency room physician and now practices internal medicine at an urgent care center in Springfield, MA.  He is an expert in nuclear non-proliferation and disarmament, with a particular interested in the Iranian nuclear programme.
Ben Griffin
Ben Griffin is a former British SAS soldier who refused to return to Iraq and left the Army, citing the "illegal" tactics of United States troops and the policies of coalition forces but also that the invasion itself was contrary to international law. He expected to be court-martialled, but was instead let go with a glowing testimonial from his commanding officer. He spoke to an anti-war rally in 2008 about UK involvement in extraordinary rendition the day before he was served with an injunction preventing him from speaking publicly and from publishing material about his time in the SAS. Griffin founded the UK branch of Veterans for Peace after a chance encounter with a member of the US sister organisation.
Twitter account: @bsggriffin
Miri Weingarten
Miri Weingarten has worked for Physicians for Human Rights-Israel (PHR-Israel) for 13 years. Since moving to London in 2009 Miri has led the EU and UN advocacy work of PHR-Israel and a coalition of Israeli and Palestinian human rights organisations. Miri reported on the fact-finding medical speakers tour in the UK; she authored the Israel chapter of Medact's 2011 report Preventing Torture and has since engaged in advocacy for adoption of its conclusions with the UN Special Rapporteur mission to Gaza following Israel's 2008-2009 military offensive during a Medact/Pax Christi on Torture and other international players.
Richard Reeve
Richard Reeve is the Director of Oxford Research Group's Sustainable Security Programme and ORG Coordinator. Richard has particular expertise in Sub-Saharan Africa, peace and conflict analysis, and the security perspectives of regional organisations and rising powers. Prior to joining ORG, Richard was Head of Research at International Alert, where he managed work on conflict analysis, justice and security system reform, climate change and security, and gender and conflict. He was previously a Research Fellow at the Humanitarian Futures Programme, King's College London, an Associate Fellow of the Africa Programme at Chatham House, Africa Country Risk Editor with Jane's Information Group, and Governance Project Officer for a conflict resolution organisation in Georgia/Abkhazia. As a consultant, he has also worked with the African Union, Economic Community of West African States (ECOWAS), Organisation for Security and Cooperation in Europe (OSCE), and the EU Delegation to Lebanon.
PROGRAMME
FRIDAY – TEACH IN
An opportunity to learn about the most important peace and conflict issues from some of the country's leading expert.
Speakers: Professor Paul Rogers (Oxford Research Group; University of Bradford); Andrew Feinstien (Former South African MP; Author, 'The Shadow World'); Hannah Wright (Senior Policy Advisor on Gender and Security, Saferworld); Nils Peter-Mork (Director of Communications, Medicins Sans Frontier); Fikr Shaltoot (Gaza Medical Director, Medical Aid for Palestinians); Phil Vernon (Director of Programmes, International Alert); Dr Julia Welland (University of Warwick); Doug Weir (Toxic Remnants of War); Janani Vivekananda (Climate and Conflict, International Alert); John Ashton CBE (former UK climate envoy); Martin Butcher (Arms Control, Oxfam) and many more.
SATURDAY – FORUM
A series of panels and plenaries with some of the brightest and creative minds from the world of health, and the peace movement – accompanied by a series of parallel workshops on action and campaigns planning.
Speakers: Professor Sir Andy Haines (LSHTM); Ben Griffin (Veterans for Peace); Vivienne Nathason (British Medical Association); Dan Smith (Director, International Alert), Dr David McCoy (QMUL, Medact), Dr Richard Horton (Editor, The Lancet), Fiona Godley (Editor, British Medical Journal), Jose Antonio-Bastos (MSF International), and Layth Hanbali (Medsin)
FULL PROGRAMME