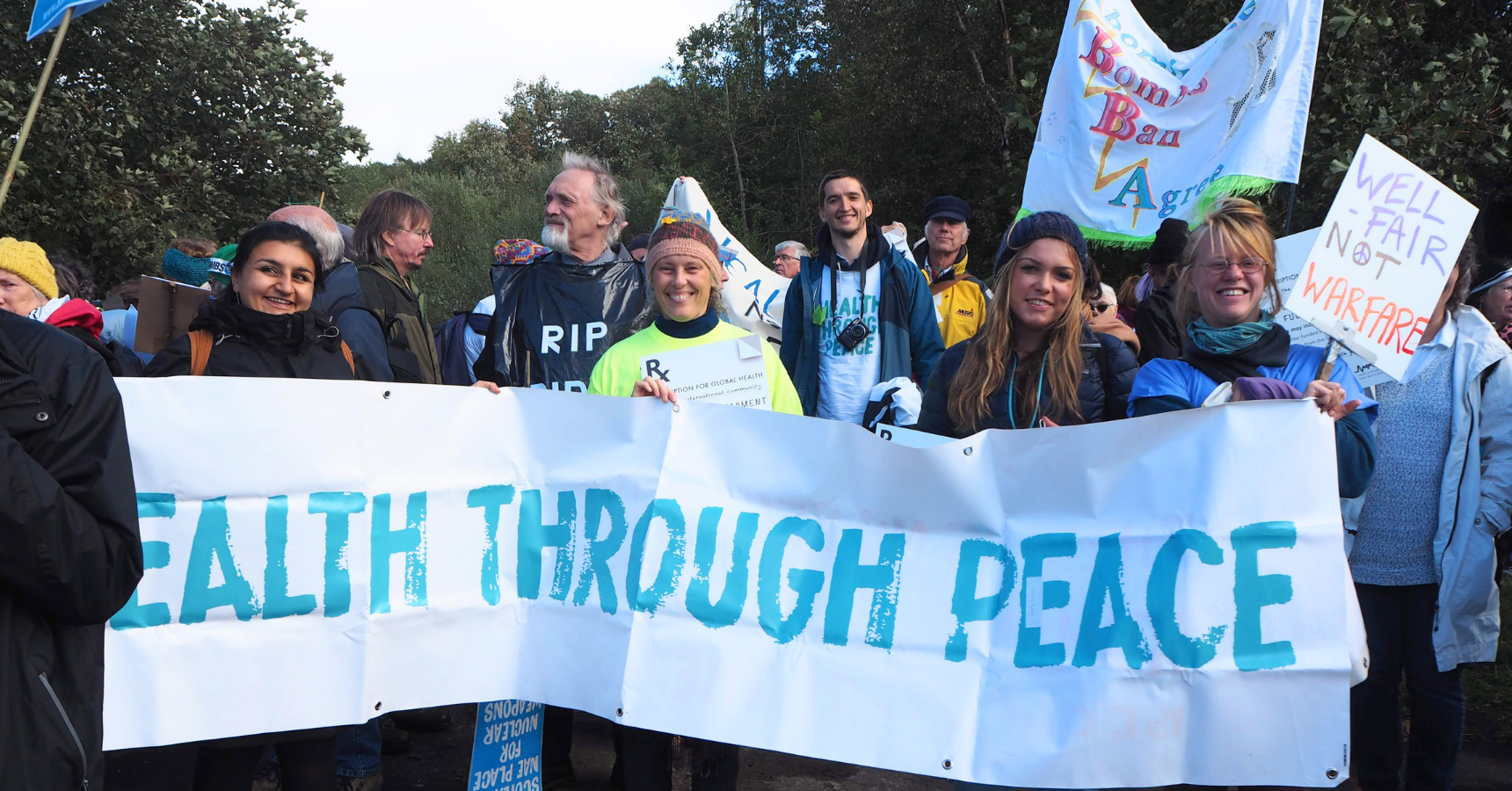 The Nuclear Weapons Group (NWG) at Medact represents the longest standing aspect of Medact's work to address war, armed violence and conflict as global threats to health.
The NWG is also Medact's main link with the International Physicians for the Prevention of Nuclear War (IPPNW), of which Medact is the UK affiliate.
Get involved
NWG is convened by long-standing member Dr Elizabeth Waterston. Membership of the NWG is freely open to any Medact member; new members are welcome. Whenever issues arise for discussion and action, members keep in touch by telephone, email and Skype.
To find out more about the work of the group and joining please see the form at the end of this page.
Focus Areas
NWG has three main areas of activity – parliamentary and civil servant lobbying; production of research papers and briefings; and collaboration with other NGOs with causes in common.
Lobbying
In February 2015, a NWG member was present as an NGO delegate at an FCO-hosted meeting of the P5 nations to discuss their approach to the forthcoming NPT Review Conference in May 2015. NGOs had an opportunity to press the case for the P5 to honour their obligations under Article VI of that treaty, and generally found the P5 response to be disappointing with little evidence of any satisfactory response to the increasing calls from the NNWS for a nuclear weapons ban.
Research Papers
In February 2013 the NWG presented "The delusional thinking behind a policy of 'nuclear deterrence" in the UK Parliament, as part of a series of Parliamentary presentations of prepared papers. Another report considered the impact of a nuclear detonation over one UK city on Blood Transfusion Services; another the links between UK universities and the Atomic Weapons Establishment.
Collaboration
NWG regularly collaborates with two principal groups: International Campaign to Abolish Nuclear Weapons (ICAN UK), and Weapons of Mass Destruction Awareness (WMDA).
With ICAN UK, NWG delegates attended the civil society meetings prior to the inter-governmental meetings on the Humanitarian Consequences of Nuclear Weapons at Oslo in March 2013 and at Vienna in December 2014. A briefing document on the impact of a nuclear detonation over one UK city on Blood Transfusion Services was presented at Oslo, and an update on the availability of UK emergency care beds after any such incident was presented at Vienna.
With WMDA we have helped define policies for raising awareness of the impact of nuclear weapons and warfare, particularly for university and college undergraduates.
An NWG member collaborated with the Reading-based Nuclear Information Service in producing a paper revealing how much UK university research is funded by the Atomic Weapons Establishment. This was launched at UCL in February 2014.