We are a group of people who work in health, organising for economic justice. We take action to close the widening inequalities that drive health injustice, and campaign to overhaul the economic system.
As health workers we witness the harm that rampant inequality does to our patients. It's clear that we can't have health justice without economic justice, yet in discussions about the economy, health and wellbeing are too often missing from the picture. We aim to change that.
We are mobilising health workers across the UK to call for a comprehensive public health response to gross inequalities, which have only been made worse by the COVID-19 pandemic, and which disproportionately affect those with the most structural disadvantage.
We do research and seek to educate, and we work with ally groups to campaign for policies that will improve the economy and our health as a society.
As an essential part of our mission to win economic transformation, we stand with and actively support those communities fighting for economic justice who are deeply affected by forms of structural oppression which drive inequality.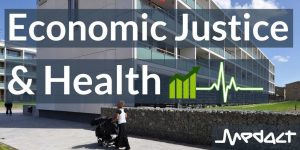 Everyone who works in health is welcome to join, whether you are a nurse, a porter or a public health researcher! Sign up using the form below to hear about how to get involved.
We meet every two weeks and we have New Joiners Meetings on Thursdays every four weeks. Check the Medact calendar for all of our meetings and events.