The Economic Justice & Health group is calling for action to address widening inequalities in health through economic system change. We are a growing network of health workers, public health professionals and civil society, and we focus on welfare, work, housing and taxation policies for better health outcomes at both local and national levels.

In the short term, we are mobilising health workers across the UK to call for a comprehensive public health response to COVID-19 pandemic. The pandemic has seen responses exacerbate existing health and economic inequalities, disproportionately impacting the most disadvantaged individuals, households and communities.

In the long-term, we are working towards addressing the causes of the structural economic disadvantage. We are changing the narrative and policies of our economic system to centre health and wellbeing for all. And we are working to support health workers to engage with economics and economic policy, and to recognise this as a broader part of their professional roles. 
We meet regularly to share progress from the three working groups, and discuss campaign strategies and how to build collective power.
Check the calendar for details of our next meeting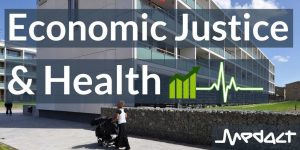 The group will meet regularly online to develop research and advocacy projects. Currently we are focusing on the campaign for a Just Response to the Coronavirus Crisis. The group in its early stages and new members are very welcome to get involved and be a part of deciding how it will grow.