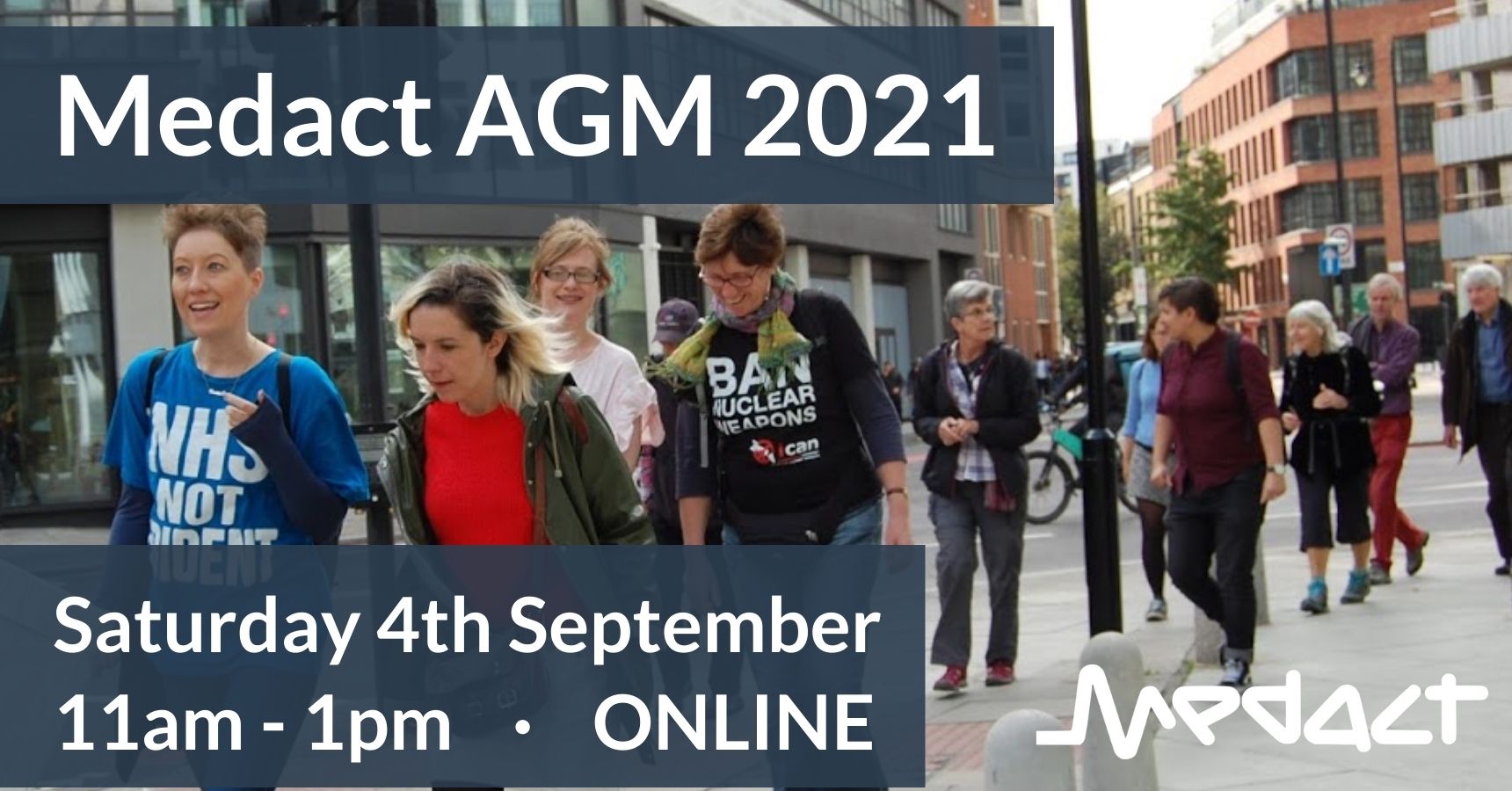 The annual Medact members meeting is just around the corner! This is the second we're holding online to help us stay safe from the coronavirus, but we have a packed agenda including important business for how Medact runs. We hope to see you there!
It was wonderful to see so many of you online at last year's meeting, and this year we're looking forward to bringing so many members together again, both veterans as well as new faces! Over 200 new members have joined in the last year – a record! This meeting is an opportunity for us all to get together and consider the overall running of the organisation.
The day will include:
a chance to hear from a number of our campaigns and member groups

a menu of opportunities to get involved in the coming months

a discussion and voting on Medact's organisational position on nuclear power (see more)

other essential business

including scrutiny of our finances and election of Trustees (see more)
Non-members are welcome to join the meeting, but you must be a member to propose and vote on motions or in elections. If you would like to get involved in running Medact, why not join today?
Please RSVP to receive final papers and joining details:
Motions
We have one motion on the agenda, relating to Medact's position on nuclear power:
'It is proposed Medact adopt the following policy position:

Given the high costs of civil nuclear power, its close association with the military and the detrimental and prolonged effects of the nuclear industry on the global environment; and given the rapid increase in the much cheaper and more efficient sources of low-carbon renewable energy which could supply the bulk of all sources of power for the UK, thereby completely filling the gap left by the withdrawal of fossil fuels: the UK should abandon all plans to expand its civil nuclear power programme, and proceed vigorously with the development of renewable sources – wind, solar, geothermal and ocean.'

Proposed: Frank Boulton

Seconded: Bimal Khadka
Members may wish to refer to our consultation briefing on the issue when considering this motion.
Trustee elections
Three of our current Trustees have completed a first three-year term and will be standing for re-election:
Kitty Mohan

Kitty is a Consultant in Communicable Disease Control based in Oxford. Working in infectious disease public health (health protection), much of her last two years has been taken up with the response to the COVID-19 pandemic. A medical doctor by background, she completed Public Health training in London in March 2018 and was awarded a PhD in Epidemiology from King's College London in 2016.

Kitty is currently the Chair of the International Committee at the British Medical Association, which leads on global health, refugee health, European issues, fair medical trade and international doctors and healthcare for the BMA. She is also Deputy Head of the UK delegation to the Standing Committee of European Doctors (CPME). Prior to this, she was the President of the European Junior Doctor Association from 2018-2020, representing the interests of 300000 junior doctors across Europe. She was a member of BMA Council from 2013-18, has previously been Director of the BMA ,and was joint lead negotiator for junior doctor contract negotiations whilst Co-chair of the BMA Junior Doctors Committee between 2013 and 2015.
Lesley Morrison

Lesley, a retired GP with a background in public health, has been a member of Medact, and previously Medical Campaign Against Nuclear Weapons, since their inception. She lives south of Edinburgh, coordinates the Scottish group and is a member of Health for a Green New Deal. She is always looking for opportunities to write and speak about health professionals' role in disarmament, especially ridding the world of nuclear weapons, and in the climate emergency.This has included offering SSCs on these issues to Edinburgh medical students.

Committed to the value of the arts and humanities for improving medical training and practice, and for health professionals' wellbeing, she is co-editor of "Tools of the Trade", a little book of poetry gifted to all Scottish medical graduates, and author of "The Wellbeing Toolkit for Doctors".

Lesley has served as a trustee for three years, is proud of what Medact is achieving, is continuing to learn and would appreciate being considered for a second term.
Margaret Jackson

Margaret is a GP in a small but busy practice in rural North Yorkshire, as well as a GP trainer and co-ordinator for teaching in her practice for medical students from Hull York Medical School.

She has co-ordinated the Medact Yorkshire group since its inception in 2017, with a focus on campaigns around fracking and fossil fuel divestment.
Our current Treasurer, who is currently a co-opted Trustee, is also being put forward for election for a 3-year term:
Hannah Wright

Hannah is a data and analytics professional, currently working for Iris in London. Her passion for health justice stems from her academic background in Epidemiology & Public Health; she has a BSc in Biomedical Science from UCL and an MSc Epidemiology from Imperial College London. Before joining Medact, Hannah held the position of Treasurer and Growth & Development officer for Goal Diggers FC.

She has acted as Treasurer for Medact over the past year as a co-opted Trustee and has introduced methods to increase visibility and rigour of grant fundraising projections as well as visual methods to communicate account updates, as well as contributing to wider Medact discussions.