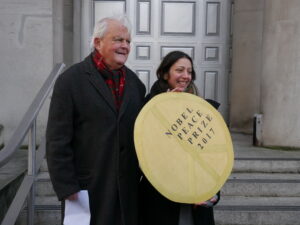 Recently it was announced that Bruce Kent had passed away on June 8th after a short illness. Bruce lived an incredibly full life: he served as a Catholic priest for nearly 30 years; as General Secretary, chair and honorary vice-president of  the Campaign for Nuclear Disarmament (CND); as President of the International Peace Bureau; as a patron of the Palestine Solidarity Campaign; and, as vice-president of Pax Christi.  
In his work particularly for the abolition of nuclear weapons throughout the decades, Bruce was a good friend and ally of Medact. Below, we share some words in commemoration and celebration of Bruce from some of our members who had the pleasure to work with him, and/or who were inspired by his passion and commitment toward peace. 
The world and the peace movement have lost an outstanding human being, and I wish he had been more widely known beyond those spheres and the church.

Looking back through past editions of Communique, he was in a photo of a delegation including MPs at No.10 Downing Street presenting a petition calling on the UK government for a constructive response to the start of Test Ban negotiations 1994 (Medact was part of the British Test Ban Coalition).

He was a speaker at the Medact conference, following the Summer 2008 AGM, on the psychology behind retention of nuclear weapons. Welcoming the initiation of the ICAN Treaty, he gave a rousing call to action: "With ICAN we can challenge the notion that abolition is impossible. Utopia is starting to look like practical politics." ICAN was brought to the UK by Medact, following an IPPNW Congress in Helsinki. Our much missed Gill Reeve would have known him well.

I remember having the pleasure of meeting him on several occasions, including when he was the interval speaker at MANA, now MPD Musicians for Peace and Disarmament concerts.

He was the most friendly, warm and engaging person, so generous of his time for numerous peace and anti-war events and organisations. He had the gift of putting over issues in a succinct and easily understood manner. A person of the highest integrity, humour and remarkable energy, he never retired from campaigning, and continues to be an inspiration to us all. Rest in Peace.
– Dr Elisabeth McElderry
Bruce died two weeks short of his 93rd birthday on 8th June 2022. For the last 30 years of his life, he was the leading personality in the British anti-nuclear weapons movement, having revitalised the Campaign for Nuclear Disarmament (CND) in 1980, the same year as the founding of the UK Medical Campaign Against Nuclear Weapons (MCANW, which later merged with the Medical Association for the Prevention of War to form Medact), which his example did much to inspire. 

I met him several times at demonstrations and marches attended by members of Medact, and also on two occasions in the last decade when he visited Southampton at the invitation of the local CND branch to commemorate Hiroshima day. His impish image belied a firm thoroughness, devout faith, and commitment to what he rightly saw as an existential threat to humankind in the form of the world's nuclear armoury. Our thoughts go out to his wife, Valerie Flessati, and sister Rosemary.
– Dr Frank Boulton
Horrified by Hiroshima, we were on the first Aldermaston March, 1958 whilst in the sixth form at school. What a huge boost it was for us all when Bruce Kent joined CND. We so admired  his directness, his clarity and above all his unconditional stance.
– Dr Sonya Baksi
Very sad news. I was privileged to share the stage with Bruce Kent representing Medact at the demonstration and die-in in front of the Ministry of Defence in London on the day that ICAN received the Nobel Peace Prize for the Nuclear Ban Treaty in 2017. When I gave my presentation that day I was very aware that one of the most dedicated and prominent anti-war campaigners in the UK was standing there as well. He remains an inspiration to the movement for a world free from nuclear weapons. 
– Dr Michael Orgel 
My main memories of Bruce are of his humanity and his humility. I was privileged to get to know him in the 1980s; when I wrote to him at the onset of the war in Ukraine, I received a postcard in return. "If war is the answer, it must be a very stupid question".  He never stopped sharing that message. Thank you, Bruce.
– Dr Lesley Morrison