Stop Patient Charging: Open Letter from King's College Hospital Workers & Community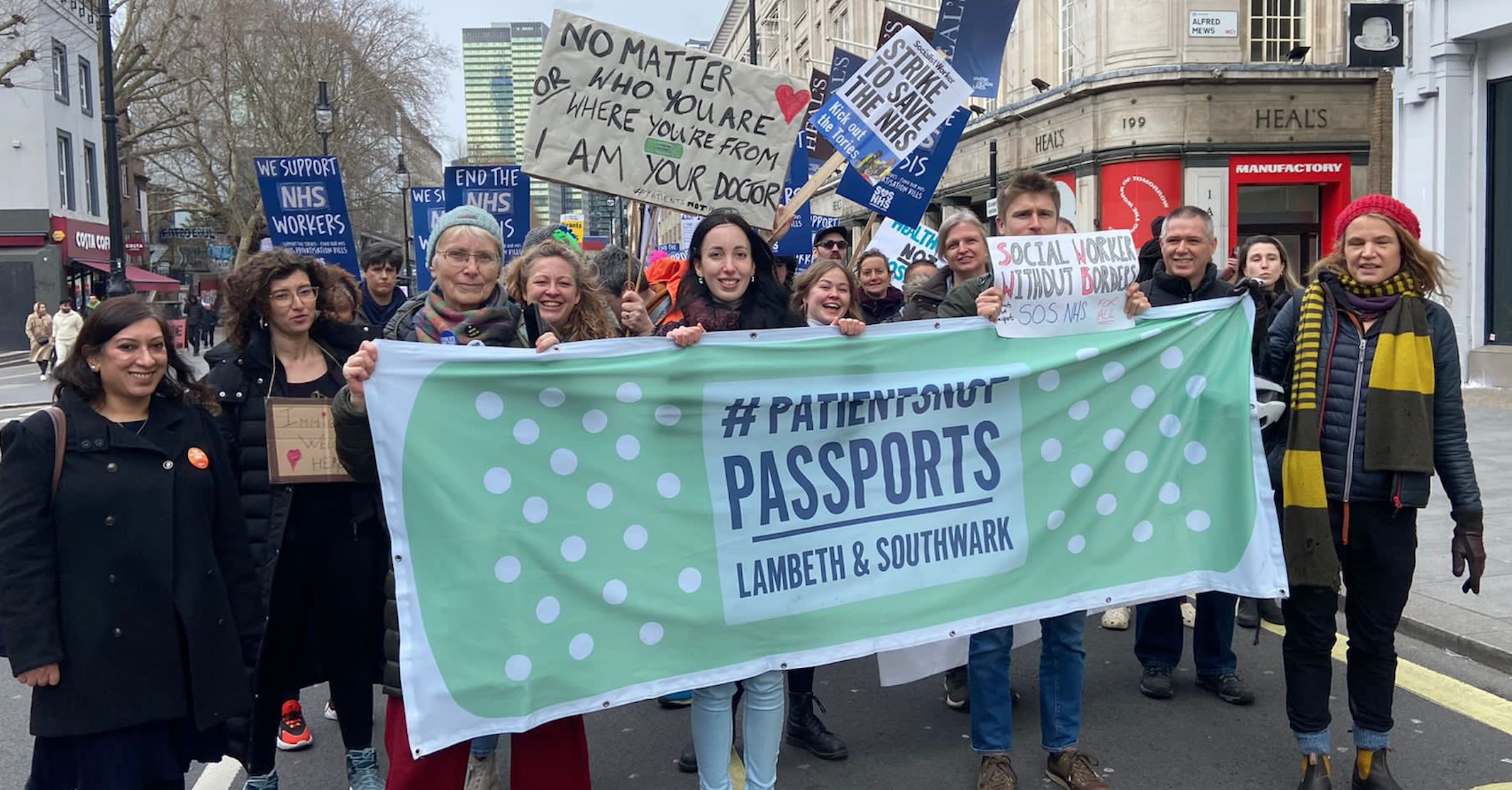 The following letter is written by workers from King's College Hospital NHS Trust and community members from the Lambeth and Southwark Patients Not Passports campaign. We stand in solidarity with members of our community against ID checks and charging for NHS care in our Trust.
Please sign below to let King's College Hospital NHS Trust know that you believe everyone should be able to access the care they need, regardless of immigration status or ability to pay.
I had a patient diagnosed with cancer, and then watched them get a bill when they were sick and worried for their life. I knew they had no income. It's not what the NHS is supposed to be. It's not what King's is supposed to be. It just kills me.

King's College Hospital doctor
If you would like to sign on behalf of your organisation, please email [email protected]
Dear Chief Executive Prof Clive Kay and Board Members of King's College Hospital NHS Foundation Trust,
We, the undersigned, call on you to stand up for the rights of people living in our community in need of healthcare. We ask that you suspend charging for NHS treatment in the Trust and thoroughly evaluate the impact of overseas visitor policies on patients and staff.
As you are aware, under the terms of the Immigration Act (2014), NHS Hospitals are obliged to identify patients with certain types of immigration statuses and charge them up to 150% of the cost of their care. In October 2017 a requirement was introduced for charging to occur upfront, before treatment is received.
These regulations have a devastating impact, creating a hostile environment in which people are too scared to seek the care they need and are sometimes simply turned away. Patients then present later, in poorer health, and have worse outcomes. The results can be deadly. This is true even for pregnant people and children. These policies put clerical and clinical staff in an unacceptable position as extensions to the UK border force, undermining trust and a professional duty of care.
ID checks and charging for NHS care directly contravene the Trust's values of being a kind, respectful team and are in opposition to the 'Strong Roots, Global Reach' strategy. The strategy puts 'diversity, equality and inclusion at the heart of everything we do' and makes a commitment to proactively tackle health inequalities, be an anchor in the community and 'act decisively to deliver more equitable experiences and outcomes'. Chargeable patients are commonly the most marginalised in our community, often fleeing violence and persecution in their own countries. We call on King's to act decisively to ensure everyone in our community feels welcome and able to access the care they need.
We call on you to:
1. Suspend migrant charging for NHS treatment in the Trust with immediate effect.
2. Properly evaluate the impact of charging on patient care – Undertake detailed research into the impact of charging on patients' health and on the Trust's commitments to its core values. Investigate how charging policies conflict with other legal obligations including the professional duties of care staff have towards their patients, and any resulting moral injury.
3. Urgently review all active charging cases, including those that have been passed to debt collectors:
Ensure patients' health and wellbeing are not put at risk by the Trust's implementation of charging policies, and ensure that the Trust is meeting its safeguarding duties to all patients – particularly those who are at risk of destitution and discrimination.
4. Call on the Government to suspend migrant charging in the NHS:
Represent the serious concerns of healthcare workers, patients and community organisations to the Department of Health and make a public statement on the fact that charging undermines the Trust's commitment to support the health of all in our community.
Watch a video made by the Lambeth and Southwark Patients Not Passports coalition featuring staff, patients and visitors sharing their views from June 2022.