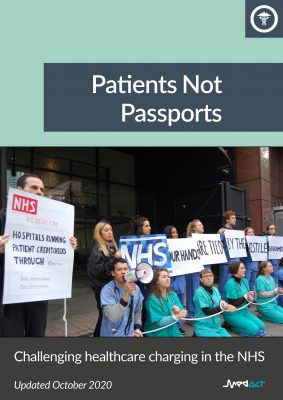 Patients Not Passports – challenging healthcare charging in the NHS is a Medact briefing paper examining NHS charging and the introduction of immigration controls in the NHS. It is designed to be a tool used to support people in campaigning against the Hostile Environment. It sets out the policy and ideological background to NHS charging; reframes and challenges some of the arguments used to justify the policies; and presents evidence and analysis of the likely impact of restricting access to the NHS. It also includes new data on NHS Trust's response to the policy and reveals how little has been done to mitigate or monitor the harm it will cause.
Originally released in March 2019, an October 2020 update incorporates new evidence and research into the impact of the NHS charging regime, as well as reflecting the growth in the Patients Not Passports campaign in the intervening period.
This briefing works alongside the Patients Not Passports Toolkit, a collaborative project between Docs Not Cops, Migrants Organise, and Medact. Together they offer resources and information that should support healthcare workers and people affected by charging to launch campaigns in their Trusts and in their communities. You can find the toolkit at www.PatientsNotPassports.co.uk.
If you would like to join the Patients Not Passports Campaign and fight NHS charging where you are then get involved with Medact's Migrant Solidarity Group, join the mailing list and come along to a meeting to find out what you can do.
Download the report [PDF]
Sign up for updates on the campaign