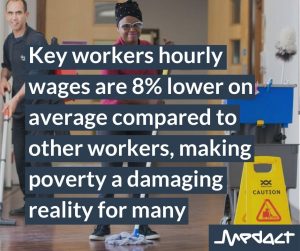 Medact stands with health workers in the NHS and all workers in their demand for fair wages and liveable incomes. We stand in solidarity with NHS health workers in their opposition to the woefully inadequate pay rise proposed by the Government in the Spring Budget. Poverty wages are not compatible with an economy that improves health and wellbeing. Income inequality undermines health by creating unfair choices between lives and livelihoods. Key workers hourly wages are 8% lower on average compared to other workers, often on incomes that are inadequate, making poverty a damaging reality for many.

Currently, sixty percent of care workers in England earn less than the real living wage. The high correlation between low pay and working in patient-facing occupations was evident throughout the pandemic. Nurses, care workers, porters, cleaners among many other health workers continue to be exposed to the risks of Covid-19 infection in order to care for those affected and to keep society functioning. Given the contributions, risks, and sacrifices in health and care systems, this political choice is a mis-step. It is at odds with the public's support for the continuing hardships endured during the pandemic and of also ensuring that a real living wage is the minimum income every worker has access too.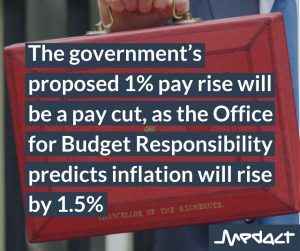 The Prime Minister paid tribute to leading figures in the UK's vaccination programme on International Women's Day. He failed to recognise that over 900,000 people work in frontline care roles, of which 83% of this workforce are women. His government's proposed 1% pay rise will instead actually be a pay cut, as the Office for Budget Responsibility predicts inflation will rise by 1.5%.
As we outlined in our "Health versus Wealth? UK economic and public health during Covid-19" briefing paper, austerity policies in the last decade have further entrenched health inequities which, in turn, has been exacerbated by the pandemic. It is essential to create fair employment and good work for all. The chancellor's budget has failed to recognise the need for a living wage that is conducive for preventing poverty, improving the economy and enabling everyone to live a healthy life.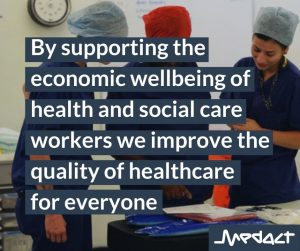 It is vital that we recognise the role of health workers in society and encourage recruitment to this sector which has been seriously understaffed for too long. By supporting the economic wellbeing of health and social care workers we improve the quality of healthcare for everyone. The decision to not address this in the most recent government budget is a continuation of political choices and economic policy that undermine the health and wellbeing of every worker.

This statement was written by the Medact Economic Justice and Health Group.