Newly published analysis from Oxford University and from Public Health England confirms just how little red & processed meat (-75%) and cheese (-85%) and foods high in fat & sugar (-53%) we should be eating compared to average British diets; and how much more fruit & vegetables (+54%) and beans & pulses (+85%). For fruit and vegetables that means the 'at least 5 a day' message should be 'at least 7 a day'. These are in addition to the much more publicised goal of cutting sugar by half.
The newly released figures provide the background modeling behind last year's updated Eatwell Guide – the government's official healthy eating advice.  At the time (March 2016) Public Health England were criticised for not explaining more about the process for deriving the revised Eatwell Guide. Now, PHE's own paper: From Plate to Guide: What, why and how for the Eatwell model explains more about the process of developing the revised guide and the modelling behind it. Prof Mike Rayner and colleagues at Oxford University undertook the modelling and their paper in BMJ Open published shortly before Christmas, also sets out the details and the scale of changes necessary to achieve the Eatwell Guide recommendations. They also found that the Eatwell diet is no more expensive than the average current diet.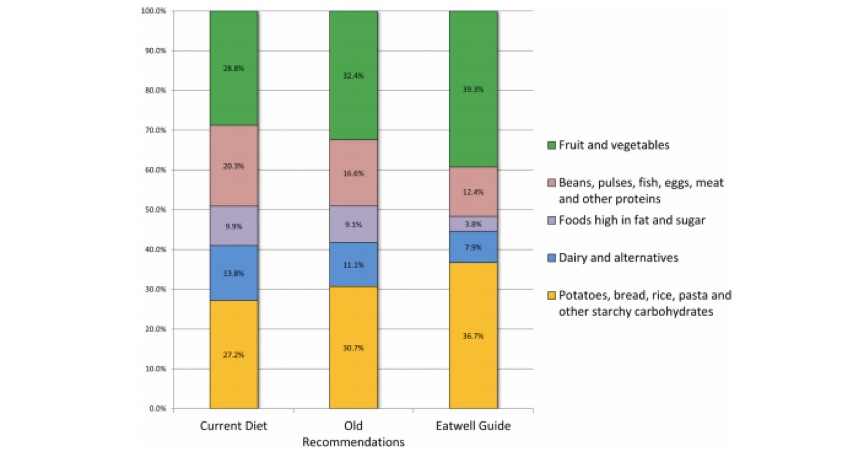 Figure 1: Breakdown of the diet by Eatwell Guide categories for current consumption, the 'Eatwell Guide' scenario and the 'old recommendations' scenario. NB: In the published Eatwell Guide, the food high in fat sugar category was replaced with 'Oils and spreads', and some of the foods were removed from the plate with the message 'Eat less often and in small amounts'.
Source: Scarborough P, Kaur A, Cobiac L, et al. Eatwell Guide: modelling the dietary and cost implications of incorporating new sugar and fibre guidelines. BMJ Open 2016;6:e013182. doi:10.1136/bmjopen-2016-013182
In his blog for the Conversation, Professor Rayner says: "The Eatwell Guide provides all of us with a clear indication of what foods we should be eating. It boils down to eat less meat and processed foods and more plant-based foods, but these new analyses also flesh out what this means precisely. And, for the first time, the recommendations are based on sound science."
Welcoming the publication of the figures behind the revised Eatwell Guide, Eating Better's Sue Dibb says: "These new figures are helpful in providing more specific details of what healthy and sustainable diets looks like: predominantly plant-based diets with more pulses and with significantly reduced levels of meat (particularly red & processed) and cheese. There are win-wins for health as well as for the planet in providing the public with more specific advice.  We now need to see much more being done to promote these messages and to help make it easy for people make these necessary shifts."
Eating Better and Medact will be asking PHE to incorporate this detailed advice into its supplementary guidance on the Eatwell Guide to help the public and health professionals understand the dietary goals behind this advice.  We will also be asking government to develop its dietary policy beyond its current sugar reduction campaign to focus more broadly on healthy & sustainable eating patterns.
---
Eating Better and Medact are collaborating on a briefing comparing dietary guidelines for sustainability to be published in early 2017.