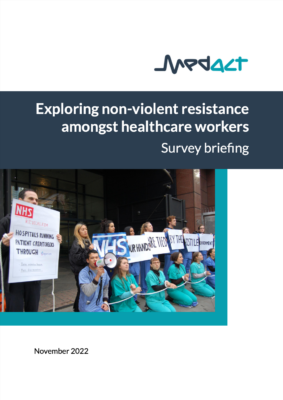 Our briefing on new research into health workers' non-violent resistance based on surveys and interviews with Medact members conducted by Dr Ryan Essex.
Summary
While remarkably common, there has been little serious study focused on the relationship between health and non-violent resistance and the actors involved in this space. This remains the case for actions and movements where healthcare workers are involved. To address this gap in our understanding, we sought to ask Medact members about their understanding of non-violent resistance, the barriers they faced in engaging in such action and their thoughts on the justification of such action.
The results speak to the complex and contingent nature of non-violent resistance, with a range of actions and issues identified, from public and disruptive action, to more individual and hidden acts. In terms of the justification of such action, many raised concerns about how closely the issue being protested was related to health or healthcare, while many also raised concerns about the nature of the action, whether it would impact patient safety and whether it was non-violent.
While a range of barriers were identified in relation to engaging in non-violent resistance, concerns about career, registration and arrest dominated, we also found that a general apathetic or unsupportive culture throughout healthcare made a number of participants think twice about engaging in such action.
We hope to use these results as a foundation for future research but also for advocacy in relation to engaging healthcare workers in effective campaigns and activism.
Learn more at the Medact Research Quarterly meeting, 30th November
The author, Dr. Ryan Essex, will present his findings at the next Medact Research Network (MRN) Quarterly meeting on Wednesday 30th November at 7pm.
MRN Quarterly meetings are also a space for those of us who want the knowledge we produce to support campaigning and activism for health justice, and a chance to meet other like-minded researchers.
Join us online at the meeting to hear Ryan talk about the survey and its findings! We'll also hear updates on our new research project "Criminalising Distress".