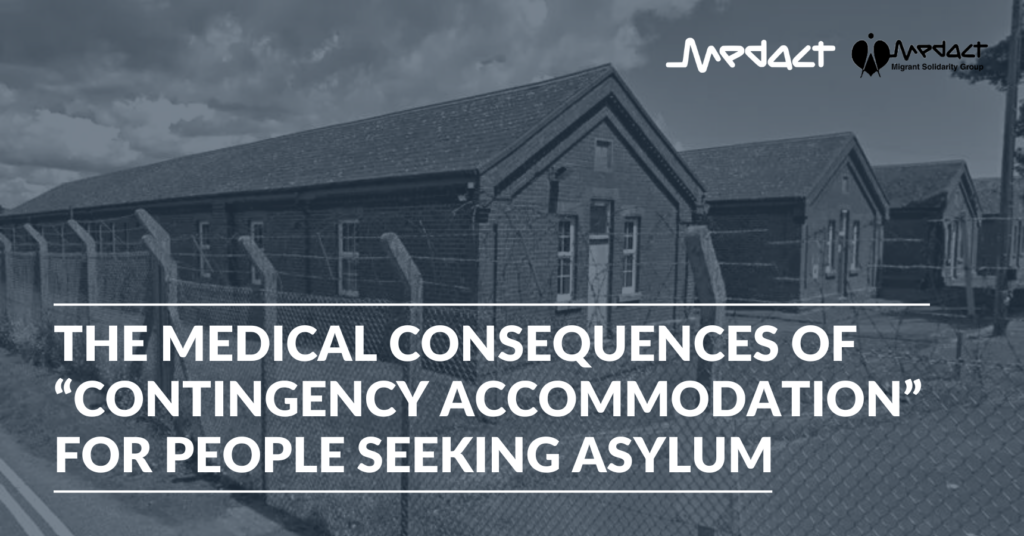 Join Medact's Migrant Solidarity Group for the launch of their new report on the medical consequences of contingency accommodation for people seeking asylum. We will present the findings of the report, hear from people working in contingency accommodation and host a panel discussion on what we can do as allies to those housed there.
Read Profiting from Pain: Accommodating asylum seekers in England, a blog accompanying the report.
This event will be hybrid and you can attend online via Zoom or in-person at the Medact offices in Hoxton, London.
Accessibility information: Entrance to The Grayston Centre is via 3 steps leading into the building. The event will take place in a meeting room on the ground floor. There is an accessible bathroom also on the ground floor. The room in which the event will be held is lit by bright, overhead lighting. There will not be live BSL interpretation, but we can turn on captions for Zoom. There is an adjacent space which can be used if you need to step out of the event for any reason. There is not parking outside the building. The closest parking spaces are available here.
Please indicate whether attending in-person or online when registering.
For those attending in person there will be a small end of year social event afterwards nearby for some food and drinks.