New research from Medact's Migrant Solidarity Group investigates the cruel and inhumane conditions in asylum seeker accommodation.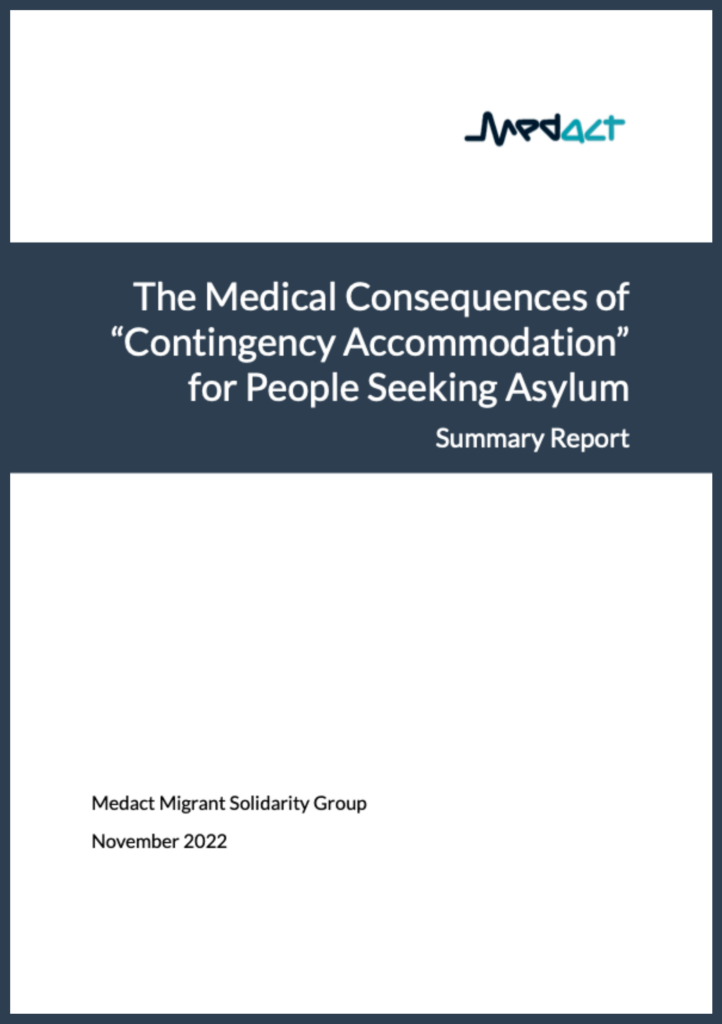 Concerns about the housing of migrants and asylum seekers have escalated since the beginning of the pandemic. From the use of quasi-detention facilities and "contingency accommodation", to recent revelations of the abhorrent conditions in the Manston initial processing centre, there is a clear attempt to normalise increasingly degrading and inhumane conditions.
This report was started in March, when growing reports of poor housing, children being denied school places, inedible food, and unlawful movement restrictions were voiced in our meetings by concerned health workers. Since then, over 100 children have gone missing from contingency accommodation, outbreaks of diphtheria and overcrowding have come to the country's attention in Manston, and asylum seekers have been left stranded in central London by Border Force agents. This against a backdrop of record profits for the private companies running these sites.
We asked doctors, nurses, health workers, and refugee advocates across the UK for a rapid snapshot of the conditions for refugees and asylum seekers living in contingency accommodation:
This survey demonstrated that inadequate standards in contingency accommodation are present across several domains with poor standards widespread around the country.

Respondents described how refugees and asylum seekers struggled to meet basic needs such as access to nutritious food, access to legal and other services, barriers to healthcare registration, movement restriction, frequent moves, and being transferred at short notice.

We identified a significant impact of contingency accommodation is the resulting isolation, and siloing of people away from the communities they are living within, with major concomitant effects on their health and wellbeing.
The safeguarding and health concerns raised in our report, although shocking, are not surprising given the conditions deemed acceptable for some of the most marginalised in our society. The impact of the environment we live in on our health is well understood. We hope the attached report will feed into conversations on the treatment of migrants and asylum seekers in the UK and Europe.
Report co-authors: Joanna Dobbin, Catarina Alves Soares, Francesca Burns, Naomi Miall, Nathaniel Aspray, Hannah Mohammad, Maya Bowles and Frank Arnold
READ Profiting from Pain: Accommodating asylum seekers in England, a blog accompanying the report
JOIN the Migrant Solidarity Group, health workers campaigning against the harmful and racist immigration policies that target migrant communities
Subscribe to the MSG mailing list
SUPPORT Medact's work by making a donation or becoming a member