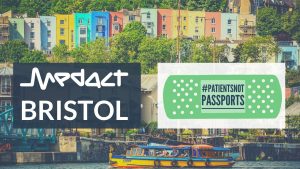 If you are a health worker in Bristol keen to find out more about the national Patients not Passports campaign, Medact Bristol are running a virtual 'Train the Trainers' session on Thursday 3rd December, 7-9pm.
This is a chance to find out more about Medact's access to healthcare campaign as well as a step by step guide on how to run these training sessions to healthcare workers.
The session will be run by Medact Bristol/PnP campaigners Helen, James, Johanna and Livi.
If you do want to join, it would be great if you could read through the PnP Briefing beforehand, so you know a bit about the charging policy, and we can focus the session how to deliver the content to different audiences.