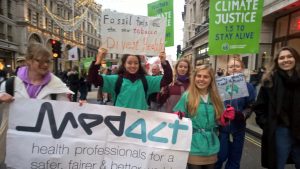 Over 90 healthcare workers from across the UK have signed an open letter calling on doctor MPs Matthew Offord, Phillip Lee, Caroline Johnson and Andrew Murrison to sign the Divest Parliament Pledge.
To date, over 220 cross-party MPs have backed the campaign to divest their pension from fossil fuel companies because of growing social, economic and environmental concerns about climate change.
The powerful open letter highlights how moving away from fossil fuels is integral to protecting and enhancing human health in the 21st century; by avoiding the worst physical impacts of climate change  and reducing the silent global killer of air pollution.
The signatories of this letter are calling on the doctor MPs to lead by example and support investment in a future economy that will promote planetary and human health.
The health community in the UK has been a leading advocate in the rapidly growing fossil fuel divestment movement, and has ensured that both the Royal College of General Practitioners and the Faculty of Public Health have made commitments to end their investments in coal, oil and gas companies such as BP PLC and Shell PLC.
Honey Smith, GP at the Richmond Medical Centre in Sheffield and member of Greener Practice UK said:
"By driving climate breakdown, our fossil fuel dependent economy threatens to reverse half a century of gains in global health. The risks of inaction are unequivocal, so political action is needed to bring about a future world that is powered by clean green energy. MPs must listen to the profound concerns of the 80 plus signatories of this letter and lead by example by backing fossil fuel divestment. We must invest in a fairer future that is powered by renewables, and not in backward looking companies who are still totally committed to extracting climate polluting fossil fuels."
Read the full letter and see the full list of signatories here.