Last week on November 8th, a special session of the High Court began a two-day appeal launched by the Bristol Airport Action Network, who are mounting a legal challenge against the government's decision to grant the airport planning permission for its expansion plans.
Medact Bristol members joined a coalition of locals, campaigners and activists outside the court to protest against the proposed expansion. You can watch a video of the protest here. Bristol group member and Medact board member Jonathan Monk-Cunliffe gave a speech, which we are publishing here in full.
——————
My name is Jonathan Monk-Cunliffe and I am a doctor living and working here in Bristol. I am standing here today because the proposed plans for Bristol's airport expansion will endanger the health of my patients, and as a doctor, I have a duty of care to speak out.
Let's be clear about what is driving this expansion. It's not local people, it's not local democracy. It's not decisions about public health, the climate crisis or social justice. It's corporate interests and profits, rather than the health and interests of the people.
Our economy is making us sick. We know time and time again that these commercial practices at the heart of the economy harm our physical and mental health, increase inequality and produce the emissions and pollution that are root causes of the climate crisis.
This airport expansion will risk the health of our local communities in three ways:
Firstly, the expansion will lead to 23,000 more flights and 2 million passengers every year. 10,000 cars a day. These flights and cars will lead to higher levels of toxic air pollutants, like nitrous dioxide and other particulates. These toxic air pollutants damage every organ of our bodies; from our brains to our lungs to our hearts. Babies and children are the most vulnerable to the effects of this toxic air. And it's people who live near the airport, who have no say, who are most affected.
Secondly, the expansion will lead to more noise pollution and more night flights. For people living near airport the persistent, deafening sound of flights, especially at night, puts huge on the body. We know this leads to higher rates of strokes and heart attacks among local people. We know that children who live near airports are less able to concentrate at school, and do less well in exams, because of this constant noise.
And third, this airport expansion will lead to 1 million more tonnes of CO2 in our atmosphere every year, accelerating the climate crisis. And we know the climate crisis is a health crisis. It's already destroying health systems around the world, by increasing the intensity of extreme weather events, exacerbating food insecurity and altering patterns of infectious disease. And it's marginalised groups who have contributed least to the problem who are already bearing the brunt of the costs.
We must act now to prevent catastrophic loss of life. But it doesn't have to be this way. This isn't just about the airport, it's an opportunity to shift to a low carbon economy that will improve our health and our lives.
We want a thriving Bristol where local people can enjoy clean, healthy air. Where people in the aviation industry can be supported to retrain in good quality, green jobs, with decent pay and secure conditions. A transport system that works for the people and the planet. And local decisions made by and for people here in Bristol, not pension funds across the Atlantic. Local democracy, climate justice, social justice and public health – these are all one fight. And this hearing is just one step.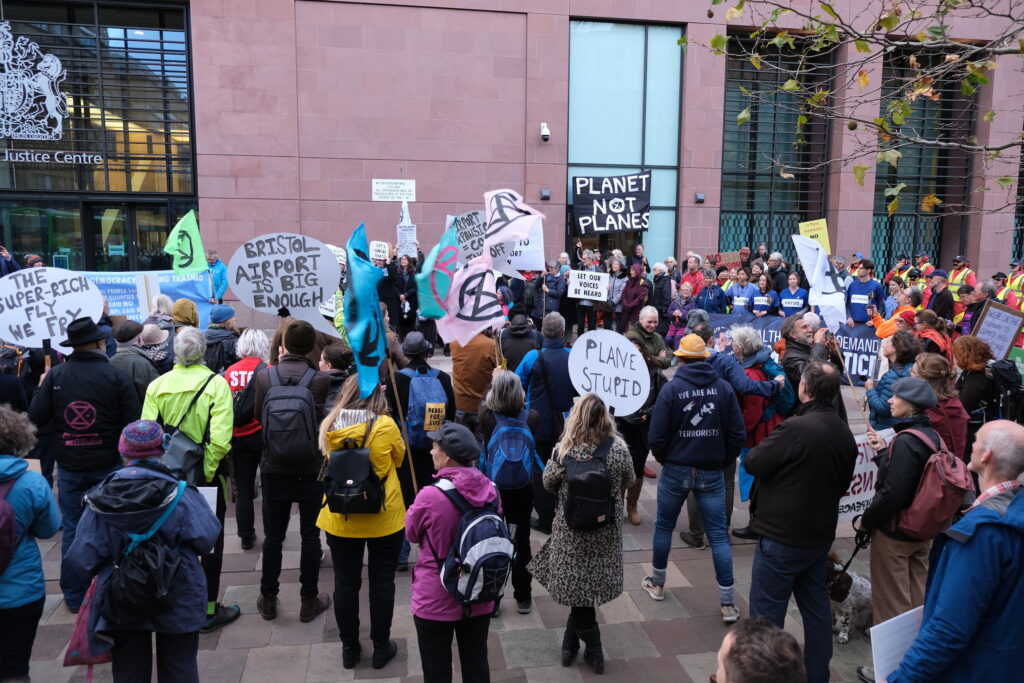 So that's why I am standing here today, together, with healthcare workers and local people, to oppose this airport expansion. We've seen how local democracy has been trashed. But we're coming together as a local community to stop this disastrous airport expansion and shout for a better future. Our voices will be heard!
——————
Want to get involved? Join Health for a Green New Deal and fight for climate justice and health justice. Live in Bristol? Join the Bristol group and their work on climate and health!