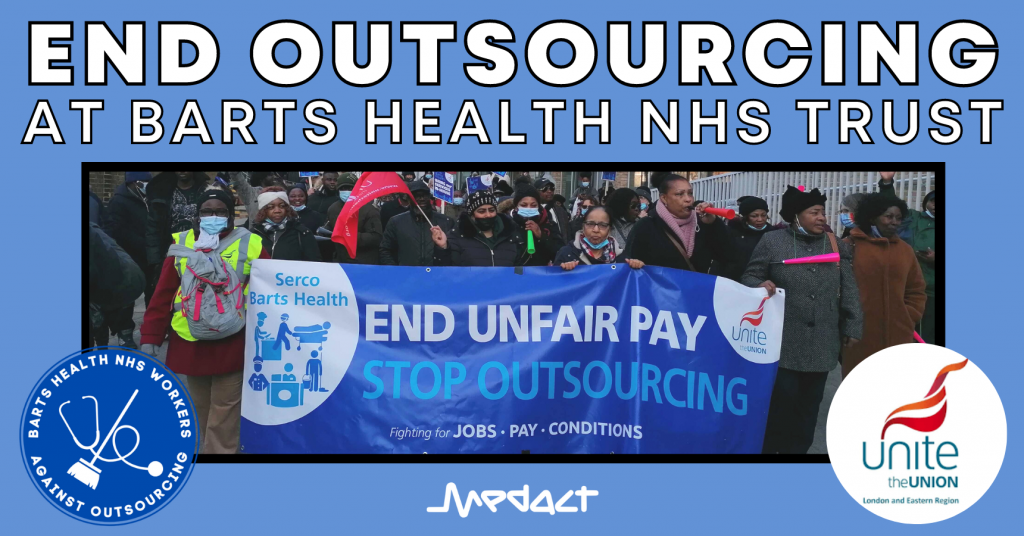 This letter has been written by healthcare workers from Barts Health NHS Trust in support of the cleaners, porters, security, catering and reception staff across St Barts, Royal London Hospital, and Whipps Cross who are taking strike action about their pay.
We urge the Trust to bring them back in house, as NHS employees.
We are all one team supporting the NHS, and we should all be employed by NHS with equal terms and conditions.
Victory! Thanks to workers and their supporters, NHS Barts Trust is bringing outsourced workers in house from 2023.
Sign up to our mailing list for more economic justice & health campaign work…
Dear Dame Alwen Williams & Executive Directors

We, NHS healthcare workers at Barts Health Trust, are writing to you to express our support of the cleaners, porters, security, catering and reception staff across St Barts, Royal London Hospital, and Whipps Cross who are taking strike action about their pay. We urge you to bring them back in house, as NHS employees, rather than continuing to leave them battling against exploitation by private companies.

Serco workers are paid as much as 15% less than their NHS-employed equivalents. While Serco Group PLC made £133.8 million net profit in 2020, up from £50.4 million in 2019, they have offered their staff a mere 3% pay rise. This amounts to a real-terms pay cut, with inflation currently at 5.4%. The main cost associated with the types of services that are outsourced is on staff, with staff amounting to 93% of the total cost of cleaning. This creates a structural incentive for private companies to drive down wages and under-staff in order to increase profit margin.

No hospital could function without porters, cleaners and other non-clinical staff; they are essential staff and should be recognised as such, and valued. They are our colleagues and have stood with us during the pandemic, at huge personal risk. They deserve to be treated equally, but instead face unacceptable inequality in terms of pay and working conditions. Being largely from already-marginalised communities and of Black and Asian ethnicity, the current system serves to amplify existing societal racism and class divides. Essentially, Barts Trust continues to treat the mostly BAME outsourced workforce as second class workers, denying them basic employment rights that all other NHS employees take for granted and this is unacceptable. Inequality is bad for everyone and we are not comfortable with this continuing within our team.

Serco employees report increasing work demands, feeling bullied by their management and experiencing racism at work. Many suffer from low job security and consequent financial instability, with bogus part time contracts and agency staffing. This is exacerbated by uncertainty around sick/isolation pay and irregular rotas, which make it difficult to plan other work and caring responsibilities. Pay far below NHS wages means many Serco workers have to work second jobs to support themselves and their families. Many also can't afford to live near their place of work.

The NHS exists solely for the health of the people it serves and this should include its employees. The working conditions faced by outsourced workers are unsustainable and detrimental to health and wellbeing, and this will also impair their ability to maintain high quality work. This has wider implications; just as Serco workers are integral to the running of hospitals, their maltreatment creates a poorer working environment for everyone. We believe that the NHS should be an excellent employer for all that work for it. Our NHS cleaners and porters deserve to be treated equally and enjoy job security, sick pay, annual leave, parental leave and pension benefits in line with in-house NHS staff.

A number of other benefits would be realised by the trust if outsourcing was to end; contracting incentivises cost cutting and lower quality. Indeed, there is a direct link between outsourced services and higher hospital acquired infections, which are both expensive and detrimental to patient care. In 2011, Colchester Hospital University Foundation Trust brought all of its facilities and estates staff back in house and after just a few months, saw cost saving and higher standards.

We are aware that Serco have decided to end their contract with Barts Health. This gives Barts Trust a unique chance to meet their immediate pay demands, but this should be the minimum. Ultimately, Barts Trust should end outsourced exploitation by bringing Serco workers back in-house, for the benefit of all NHS workers and patients. The tide is turning on the unjust and outdated practice of outsourcing. Imperial College Healthcare, Epsom and St Helier University Hospitals and Great Ormond Street are among those who have already ended outsourcing and we strongly believe Barts Health should come out on the right side of history by joining them.

We all work for Barts Health and we all deserve equal treatment. We are all one team supporting the NHS, and we should all be employed by the NHS. We, NHS staff, ask the trust to immediately meet the demands of our outsourced colleagues: a fair pay settlement, in-sourcing of all outsourced services & FULL NHS pay & conditions from day one!

End outsourcing now.

Yours sincerely,

Barts Health NHS Trust Healthcare workers