Our year was filled with amazing work from all of our movement. Here are some highlights, updates and reflections from our staff and members. All of the Medact team would like to wish you a safe and peaceful festive period, however you are spending it!
Campaign Updates
Peace & Security
"It's been a real honour to be welcomed into the Securitisation of Health Group this year. The opportunity to collaborate on the Alternative Training on Prevent series has particularly been a valuable experience in connecting and learning from our amazing and knowledgeable speakers, as well generating impact in healthcare communities on the issue of Prevent. I am really proud of our achievements so far, 2022 looks to be even more challenging with the release of the Shawcross review and I look forward to working with other members to meet it head on."

– Securitisation of Health Group member Mashal Iftikhar
2021 has been a busy year in the fight against the ever-expanding web of policing and surveillance policies in healthcare.
Our Securitisation of Health group worked hard to educate the wider health community on the impacts of the Prevent counter-extremism policy in the NHS. The group has produced educational and mutual support resources, and we're going to be developing campaign resources in the new year, so watch this space! You can watch and listen back to all of our Alternative Trainings on Prevent from the year.
In May, we published 'Racism, mental health and pre-crime policing: the ethics of Vulnerability Support Hubs' – a new report shedding light on a secretive counterterrorism-police-led mental health project.
We worked with allies on an open letter from over 660 frontline workers calling on the government to scrap the policing bill, particularly its 'serious violence duty'. We raised the alarm with health institutions including BMA, and together with the GMC and the National Data Guardian they successfully lobbied the government to amend the Bill to protect patient confidentiality.
The UN Treaty on the Prohibition of Nuclear Weapons entered into force on 22nd January this year, and our Nuclear Weapon Group has worked hard all year toward the abolition of nuclear weapons.
This year, we have been encouraging the UK government to sign up to the Treaty, and encouraged local councils to sign up to the ICAN Cities Appeal and Mayors for Peace, to show their support. We also worked to persuade banks, financial institutions and insurance companies to disinvest in nuclear weapon manufacturers, with the Don't Bank on the Bomb campaign.
As the UK affiliate, we have been pleased to participate in the IPPNW International Council, and in meetings with our friends in the European Region. We're pleased to say that our own Bimal Khadka is now deputy chair of the Council! As the late Dr. Yevgeniy Chazov, co-founder and co-president of the IPPNW, said: "We cannot keep silent knowing what the final epidemic – nuclear war – can bring to humankind."

– Nuclear Weapons Group members
Health & Human Rights
The Patients Not Passports network has been working non-stop since the summer, sharing campaign skills and knowledge and organising two huge actions: Simba's Carnival of Resistance in September and then October's No Borders in Healthcare Week of Action.
Catch up on writing by campaigners in the Patients Not Passports network:
We also worked with writer Ziad Al-Qattan to tell how the hostile environment is damaging vaccine rollouts, and we supported the Bureau of Investigative Journalism with their research highlighting the struggle many migrants face trying to access vaccines.
If you want to get involved, keep an eye out for our next New Joiners meeting in the new year!
Economic Justice
The Economic Justice & Health Group has had a productive year, building on the foundations of last year's formative work. This year, the campaign established three arms to focus our research, education and outreach efforts: Liveable Incomes, Secure Housing and Tax Justice. 

In February, we published our briefing report 'Health Versus Wealth?' with launch webinar attended by over a hundred guests, and we published our reflections on the harms of this false dichotomy in the BMJ. 

We have shared our organising space with other civil society groups such as Z2K, who collaborated with campaign members to research the harms of the government's disability assessment policy and its implications for welfare and wellbeing.

This year, we said farewell to Siddhartha, our programme lead, who was instrumental in building and facilitating the campaign for the last two years. We wish him the best of luck in his next chapter!

Looking ahead to 2022, we're excited to welcome our new programme lead Jordi in January. We're keen to welcome new members and would love to hear from you if you might be interested. Sign up to the Economic Justice & Health mailing list for updates, and thank you to everyone who has been involved in our work this year!

– Amaran, Monica and Calum
Climate & Health
It's hard to believe that 2021 is almost at an end. The past 12 months have been a time full of difficult challenges, but also a period of immense success for the movement for climate and health justice. In April, we officially launched the Health for a Green New Deal campaign with an online gathering, alongside our briefing, 'The Public Health Case for a Green New Deal'.
Health workers and students across the country took action. Some met with their MPs to lobby them on the upcoming Green New Deal Bill. Some organised climate clinics, encouraging their communities to write to their MPs about the bill. Some worked on local elections in London and Glasgow, putting health justice and the Green New Deal bill on the agenda. And, the BMA for a Green New Deal group won motions at the BMA's Annual Representative Meeting in support of a transformative Green New Deal!
Health communities across the country joined fights against polluting projects. Medact Leeds joined the protests against the expansion of Leeds Bradford Airport. And, after many months and a huge campaign, plans for the Cambo Oil Field off the coast of Scotland were scrapped in December (it may yet resurface, so please sign the health community letter organised by Students for Global Health!).
Our work culminated in action around the UN climate talks in Glasgow. Over 1000 health workers and several royal colleges wrote to the UK government, COP26 leadership and other world leaders to call for health justice at the talks.
Health workers and students across the country took to the streets for the Global Day of Action for Climate Justice, everywhere from Southampton to the Shetlands! Around 700 joined us on the streets, with 350 people joining a huge Health Bloc on the march in Glasgow.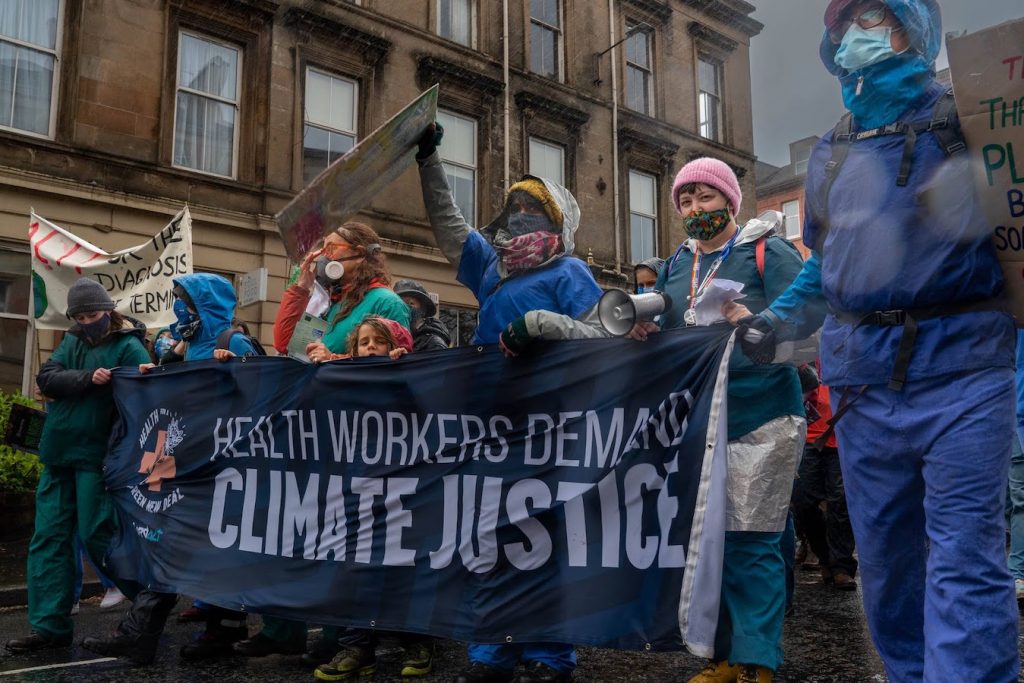 Despite the wind and the rain there was an amazing energy within the health bloc and a range of fantastic banners made our message clear: The climate crisis is a health crisis and we need climate justice now for those who are already suffering. It was an amazing day. So powerful to see so many health professionals and students uniting to demand urgent action at COP26! 

– Sian in Glasgow
And we co-hosted the Peoples' Health Hearing as a part of the COP26 Coalition's Peoples' Summit. Over a whole day, the hearing brought together witness testimony on the climate crisis from impacted communities across the world.
Plans for 2022 are already being built. To join and keep up to date with the campaign for a transformative Green New Deal for the health of people and planet, make sure to sign-up to the mailing list – and join us on our first Welcome Call of 2022, on January 24!
Research Updates
In November, after some intensive collaborative work by Medact Research Network members, we produced The Public Health Case Against the Policing Bill. It argues that policing, criminalisation and the repression of protest are inherently harmful to public health. The launch event featured inspiring speakers and well over 100 guests.
The writing team felt proud of amplifying the case for "abolitionist public health", building on the work of so many grassroots groups before us, and bringing new ideas to our members. We hope to continue this work in the new year.
Also, Research Manager Hil Aked published a journal article on Prevent, the UK's Vulnerability Support Hubs and the nexus of mental health, counterterrorism and Islamophobia in a special issue of Bioethics focused on racism in health.
Movement Updates
Entries are now open for the Holdstock-Piachaud Essay Prize 2022! Now in its fifteenth year, the prize was established to encourage students to explore the themes covered by the journal Medicine, Conflict and Survival, in memory of Douglas Holdstock and Jack Piachaud who were for many years its inspirational editors. The prize offers the opportunity to write on a range of organisationally-relevant themes for a shot at prize money and publication.
Finally, we're sorry to have to share the news of the passing of another long-standing Medact member, Brian Beveridge. Brian served on Medact's Board as Treasurer from 1998 to 2003. We're especially indebted to his skillful management of the delicate process of Medact's initial charity registration in 2000, without which much of the last two decades of work would have been possible.