Hospice community artist Marcelo Camus reacts to the appointment of William Shawcross to review the Prevent counter-extremism programme and recalls his own struggle to resist the damage done by this policy in the health sector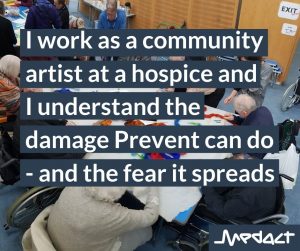 At the end of January, the government appointed William Shawcross to review the Prevent counter-extremism policy. Sadly, this made it crystal clear that they have no interest in genuinely listening to the numerous profound criticisms of this harmful policy. Shawcross is well known for his hawkish attitudes to counter-terrorism and civil liberties, as well as his deeply problematic views on Islam and Muslims. Though not surprised, I was disappointed. I work as a community artist at a hospice in south London and I understand the damage Prevent can do – and the fear it spreads.
Prevent training was made mandatory by the government in 2015 and it was rolled out at my workplace in 2019. There was no explicit announcement, though, and for many staff –  unaware of the issues with Prevent – it was just one more in an ever-growing list of mandatory training sessions being added to staff workload. I was aware of Prevent, however, and how it disproportionately targets BAME groups, as Medact's report False Positives documented last year. I did not want to be part of a state surveillance operation or racial profiling.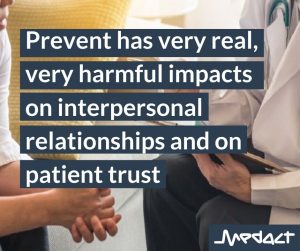 From the perspective of providing compassionate care, I found it disturbing. Working with vulnerable patients at the end of their lives, there's a lot of frailty, both physical and emotional. My work with patients at the hospice has been a powerful testament to the importance of our shared humanity when faced with death and dying.  Being trained to watch out for so-called "signs of radicalisation" while sitting with a patient is the complete antithesis of this. Thinking about reporting people contradicts total care at the end of life. It's not a harmless bureaucratic practice. It has very real, very harmful impacts on interpersonal relationships and on patient trust. Moreover, it isn't necessary or even effective. Prevent is called 'safeguarding' but in my opinion it does quite the opposite. What it 'prevents' is positive, holistic care.
With this in mind, I challenged the training in the hospice on the grounds of racial stereotyping and Islamophobia. I wrote to my line manager, saying I wanted to personally opt out for ethical reasons. Such a call to boycott the training on ethical grounds has previously been made in 2016 by a senior psychiatrist and in 2018 doctors passed a motion urging the British Medical Association to support members who refuse to participate in this way. However, the response from hospice management was not encouraging. I was told Prevent was "mandatory" and informed by HR that refusal to complete the training would lead to disciplinary measures.
I raised the issue at a meeting of the Equality & Diversity committee, of which I was a member. While other BAME staff members supported me privately, I was shocked to learn that many did not feel able to publicly speak out, for fear of discrimination. This is hardly surprising when you understand that criticising repressive counter-terrorism measures is itself labelled by Prevent as a possible indicator of "radicalisation". As a Latin-American staff member, I openly acknowledge that I exercised the privilege of my education and lighter skin to raise my voice.
After sitting uncomfortably at the table with senior management and explaining my issues with Prevent, I continued to be told that it was "a training requirement from the CCG". Prevent has indeed been added to the standard contract NHS providers sign. Nonetheless, this does not change the fact that it constitutes a clear racial injustice.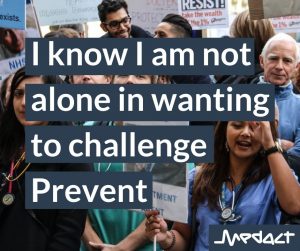 I was put in touch with the then Prevent Regional Coordinator for NHS England in London and the South East. I sent a polite email with attached articles with highlighted text that demonstrated why I felt the Prevent duty at the hospice was problematic and I did not want to be obliged to enact it. The Regional Coordinator never replied to my emails, instead replying directly to the senior staff member, bypassing me completely. He stated it was "not the role of NHS England/Improvement to respond directly to criticisms", that Prevent was "a legal and contractual requirement" and that he was "unable to enter into further dialogue". (The same Prevent official also declined to be interviewed for Medact's research.)
My own mental health suffered due to the stress and strained relationships the conflict over Prevent caused in my workplace. In the end, I decided to do the training but I remain strongly critical of Prevent. Though I lost that particular battle for social justice, anti-racism and compassionate care, I believe my actions will stand on the right side of history. I know I am not alone in wanting to challenge Prevent and I encourage those who share my concerns to join Medact's Securitisation of Health group.