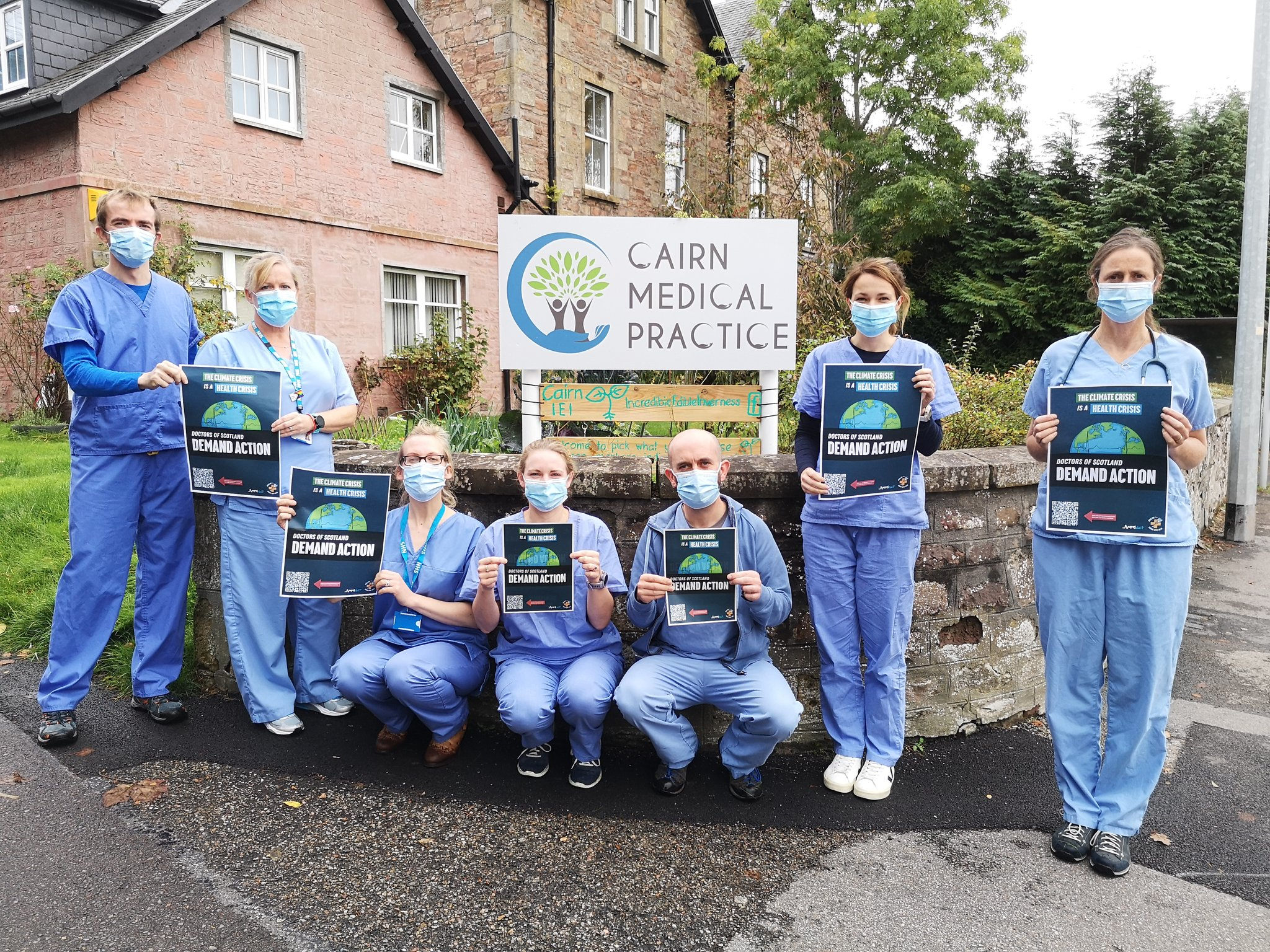 The climate crisis is the greatest public health threat of the 21st century. With this action, doctors of Scotland can help send a message to those in power at COP 26.
As the world leaders gather in Scotland this November, they have an imperative choice to make: decisive climate action that will secure better health outcomes for so many – or allowing warming to rise above 2°C by 2050 and sentencing millions to death, starting with those least responsible for the crises we're in.
As the doctors of this country, we cannot stand idly by and let these climate talks fail our patients, and fail the people of the world. We must demand that global health is prioritised!
Over 400 doctors from across Scotland have joined together to call on the world leaders gathered at COP 26 to:
Take decisive action to mitigate the wide reaching health impacts of climate change
Ensure Climate Justice
Establish a global Green New Deal
Remove the influence of polluters from COP
We've now closed the sign-on for this letter ahead of sending to a range of the world leaders gathered at COP 26.
Thank you to all signatories!
Statement:
The doctors of Scotland signing this statement recognise that climate change, caused by human activity, is the greatest threat to health in the 21st century.
The World Health Organisation estimates that climate change will cause an additional 250,000 deaths annually from 2030. Tragically, those who are currently suffering most are those who have contributed least to the problem. But no nation is immune to the effects of climate change. Like the Covid-19 pandemic, it will impact every country in the world, exacerbating health inequalities and ravaging our collective life support systems. The Lancet Countdown's 2020 analysis of the effects of climate change on health revealed that 2020 was the worst year for all domains assessed. The 6th report from the IPCC published this year is their starkest yet. They make clear that unless there are immediate, large-scale reductions in greenhouse gas emissions, limiting warming to 1.5°C or even 2°C will be beyond reach. We are not making progress and we simply must. You must act.
The health impacts of climate change are colossal and in many nations already inflicting great harm. They include: heat stress; extreme weather events; increased vector-borne diseases; drought; food scarcity; the numerous health impacts of air pollution; and the devastating consequences of migration and conflict due to the aforementioned. We have an opportunity, as we emerge from the COVID-19 pandemic, to address both crises simultaneously and build our societies back in a manner fit for the next generation.
Many adaptations required to mitigate climate change will lead to health improvements and lessen health inequalities, both domestically and globally. Examples of such climate and health co-benefits include: better home insulation to address fuel poverty; prioritisation of active transport to reduce the health burden of air pollution; and restoration and protection of our blue and green spaces to improve physical and mental health. Governments and healthcare systems of the world must work together to realise these health and climate co-benefits.
For the health of all citizens of this planet, we demand that you recognise climate change as our greatest public health threat and act accordingly. In accordance with a proportionate response to the climate crisis, we ask that you:
1. Take decisive action to mitigate the wide reaching health impacts of climate change
The health crisis within climate change is no longer just theoretical but the current reality for millions of people across the globe. Extreme weather events in the last 12 months, spanning from the Arctic circle to Germany to Iraq have claimed many lives. Governments must step up to ensure measures which protect communities from the impacts of the climate crisis that we can sadly no longer prevent. This must include directing much needed public investment towards health services – funding for healthcare must be seen as a key component of adaptation.
2. Ensure Climate Justice
Climate change affects everyone, but that does not mean that we are all feeling the impacts of the crisis equally. Both in Scotland and globally, it is those least responsible for the causes of climate change and ecological collapse who are suffering the most. Climate policy must centre on the most marginalised groups within our communities. World leaders at COP26 must also work to ensure that solutions live up to the historic responsibility that wealthy industrialised nations hold, repaying the debt that they owe.
3. Establish a global Green New Deal
To counter the adverse effects of both the climate crisis and COVID-19, governments must ensure that the transition to a decarbonised society is fair and equitable. This must include support and investment to create new green jobs and infrastructure. Nations cooperating to establish a globally-just Green New Deal is an opportunity to put those communities most affected by climate change and ecological destruction at the heart of international climate agreements.
4. Remove the influence of polluters from COP
We are alarmed that not only have companies responsible for pollution played a big role in UNFCCC talks leading up to the negotiations in Glasgow, COP26 president Alok Sharma has permitted big polluters to sponsor and influence negotiations. Following the example of the World Health Organisation's (WHO) Framework Convention on Tobacco Control, it is imperative that world leaders move to bar polluting companies and lobbyists, including those from the fossil fuel industry, from COP26 and all future climate negotiations.
As doctors we spend our working lives trying to preserve and improve health but the greatest threat to health is not in our hands, it is in yours. Please do not fail us.
Yours sincerely,
The undersigned…