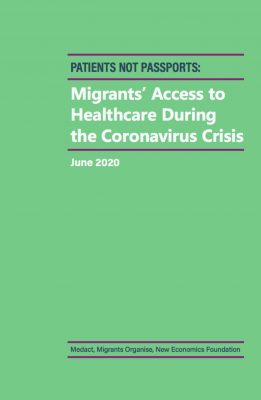 Migrants' Access to Healthcare During the Coronavirus Crisis is a new Medact briefing paper, co-produced by Migrants Organise and the New Economics Foundation. The report examines the barriers to accessing healthcare for migrants during the coronavirus crisis and the findings of the research lead to a series of urgent recommendations designed to help inform the government's response to the public health emergency.
The report surveyed migrant and refugee support organisations and community groups from across the UK and then undertook interviews with a subsection of respondents in order to gather further information. The report's findings highlights numerous cases of migrants being denied healthcare outright; or refusing to seek care due to fear of Government policies or racial profiling.
The report shows that:
Migrants are not coming forward for healthcare

because of the Government's Hostile Environment, including during the coronavirus pandemic.

The coronavirus 'exemption' from charging and immigration checks is not working

– people are still being asked to show their passports for coronavirus treatment, and migrants are still too fearful of the Hostile Environment to come forward for treatment for coronavirus.

Migrants are facing a wide range of additional barriers

– including language and digital exclusions – to accessing care during the pandemic, including to emergency services.
On Monday 8th June we are launching a series of blogs looking at the wider impacts of the Hostile Environment and exclusion of migrant and BAME communities that we weren't able to cover in the report. Sign up to Medact's Patients Not Passports list below to get notified when they are published.
This briefing works alongside the Patients Not Passports Toolkit, a collaborative project between Docs Not Cops, Migrants Organise, and Medact. Together they offer resources and information that should support healthcare workers and people affected by charging to launch campaigns in their Trusts and in their communities. You can find the toolkit at www.PatientsNotPassports.co.uk.
If you want more information on the Hostile Environment in the NHS, where these policies came from, how they work, and the impact they have then read our briefing Patients Not Passports: Challenging Healthcare Charging in the NHS.
If you would like to join the Patients Not Passports Campaign and fight NHS charging where you are then get involved with Medact's Migrant Solidarity Group, join the mailing list and come along to a meeting to find out what you can do.