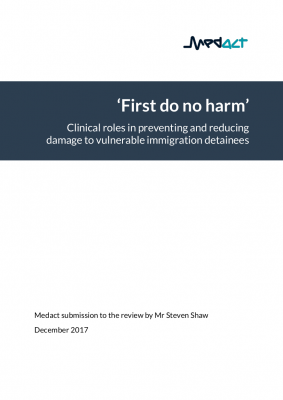 The available evidence shows that the objectives of significantly reducing the number of vulnerable individuals detained and the duration of their detention have not been achieved by the changes to policy and practice introduced since the initial review into welfare in in detention of vulnerable persons produced by Mr Steven Shaw in January 2016.
Indeed, in some respects these changes have actively impeded progress.
In our submission to the follow-up review that is now under way, we:
recommend the introduction and publication of cyclical audits, overseen by HM Inspector of Prisons (HMIP), the Care Quality Commission (CQC) and HM Chief Inspector of Borders and Immigration (HMCIBI) and carried out (at least initially) by independent clinicians with the requisite expertise reporting to them. These audits should seek to identify cases of vulnerability and harm, to understand the mechanisms through which they have occurred, and lead to practical and demonstrably effective means of harm reduction;
consider that the Rule 35 process, as currently operated, is unfit for purpose. It cannot compensate for frequent mistaken decisions to maintain detention, particularly under circumstances where the duration of detention is indefinite;
agree with the first Shaw report's recommendation, that Rule 35 should be redrafted rather than done away with. This will require an amendment to Statutory Instrument 2001 No. 238 The Detention Centre Rules 2001. Any such amendment should be preceded and directed by transparent consultation with all relevant stakeholders.
Medact is grateful for the advice of doctors who are members and associates of Forrest Medico-Legal Services (http://www.forrestmls.org) and who have extensive experience of examining detainees (and in consideration of their IRC medical notes) during or after immigration detention. This submission was drafted by Medact Trustee Dr Frank Arnold – he accepts sole responsibility for any errors.
Downloads