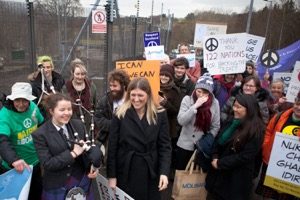 On December 10th 2017 ICAN (The International Campaign to Abolish Nuclear Weapons) was awarded the Nobel Peace Prize in recognition of its work "to draw attention to the catastrophic humanitarian consequences of any use of nuclear weapons" and for its "ground-breaking efforts to achieve a treaty-based prohibition of such weapons". IPPNW (International Physicians for the Prevention of Nuclear War), to which Medact is affiliated, played a pivotal role in this achievement.
On March 14th 2018, as part of a wider UK visit, Beatrice Fihn, the Executive Director of ICAN visited Scotland. Some members of Medact Scotland were able to take the opportunity to meet her.
In the morning she spent time at the Scottish Parliament at Holyrood in Edinburgh and met with some of the MSPs, most of whom have signed the ICAN Parliamentary Pledge on the UN Treaty on the Prohibition of Nuclear Weapons. She also took the opportunity to highlight ICAN's Don't Bank on the Bomb campaign.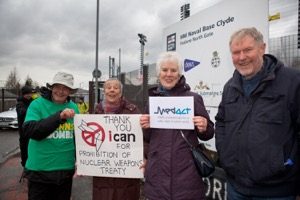 In the afternoon she was taken to The North Gate of the Royal Naval Base Clyde at Faslane to join the weekly vigil held there. Faslane is home to the UK's Trident nuclear weapons system and nearby Coulport is the Royal Naval Armaments Depot where the nuclear warheads are stored. These weapons are transported from Aldermaston and Burghfield in England along our main road networks and through town and city centres.
Later she visited the Peace Camp which has had a presence at Faslane since 1982 and she was also taken to a vantage point from where she could have a good view of the base.
Perhaps because of its proximity to Glasgow people in Scotland are acutely aware of the presence of these weapons of mass destruction in our midst and the catastrophic humanitarian consequences if they were ever to be either used or targeted by accident or intent. Over the years many demonstrations and actions have taken place at Faslane.
On 22nd September 2018 there is to be a major international demonstration at the Faslane Base to demonstrate the urgency to get rid of these weapons, not only from Scotland and the UK, but also from the world. You can read more about it here. Coincidentally, but not insignificantly, it is also the day after International Peace Day. A number of Medact members will be attending, and we would love for others to join us in raising their voices against these dangerous weapons in our midst. If you're interested, please e-mail [email protected].
As health professionals, I believe we have a duty to humanity to raise awareness of the impact of these weapons of mass destruction and our inability to respond to their consequences.