Saturday 13th May
–
Saturday 20th May
BST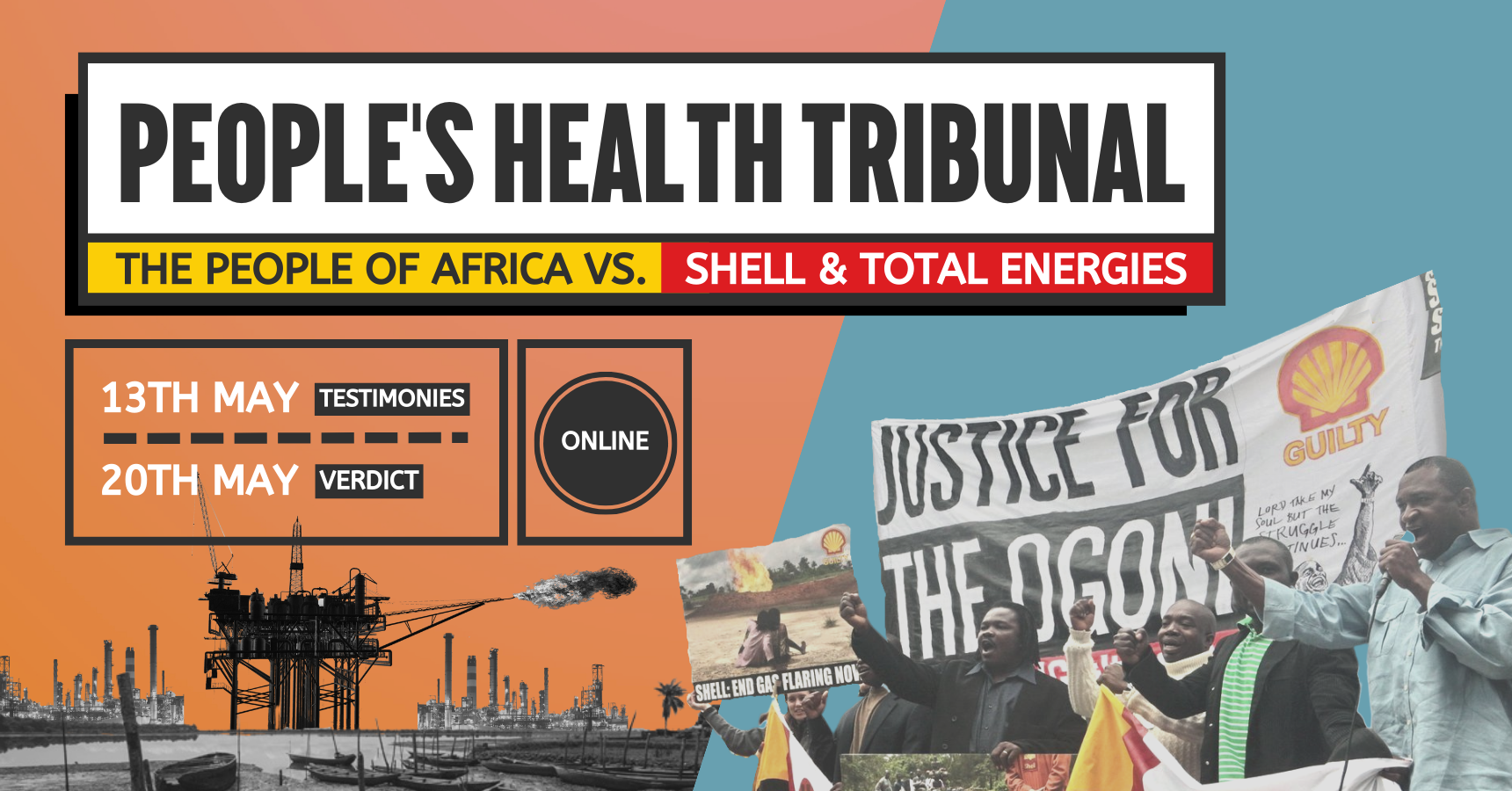 Following COP 27, in May 2023, join us for a People's Health Tribunal. The Tribunal will hold space to listen, in six languages, to key struggles against extractive industries from across the African continent and Diaspora communities, holding fossil fuel giants Shell and Total to account. We will share stories of resistance against extractivist and colonial violence and its health impacts as well as visions of justice denied by international judicial systems. The Tribunal will be spread over two sessions on May 13th and May 20th.
We will be sharing more details soon. In the meantime, sign up below to keep up to date!
Après la COP 27, en mai 2023, rejoignez-nous pour un Tribunal de la santé des peuples. Le Tribunal sera un espace pour écouter, en six langues, les principales luttes contre les industries extractives à travers le continent africain et les communautés de la diaspora, exigeant des comptes aux géants des combustibles fossiles Shell et Total. Nous partagerons des histoires de résistance contre la violence extractiviste et coloniale et ses impacts sur la santé, ainsi que des visions de la justice refusée par les systèmes judiciaires internationaux. Le Tribunal sera réparti sur deux sessions, les 13 et 20 mai.
Nous vous donnerons plus de détails en 2023. En attendant, inscrivez-vous ci-dessous pour être tenu au courant!
Después de la COP 27, en mayo de 2023, únete a nosotros para un Tribunal de Salud de los Pueblos. El Tribunal será un espacio para escuchar, en seis idiomas, las principales luchas contra las industrias extractivas de todo el continente africano y de las comunidades de la diáspora, exigiendo responsabilidad a los gigantes de los combustibles fósiles Shell y Total. Compartiremos historias de resistencia contra la violencia extractivista y colonial y sus impactos sobre la salud, así como visiones de la justicia negada por los sistemas judiciales internacionales. El Tribunal se desarrollará en dos sesiones, los días 13 y 20 de mayo.
Compartiremos más detalles en 2023. Mientras tanto, ¡inscríbete abajo para mantenerte al día!