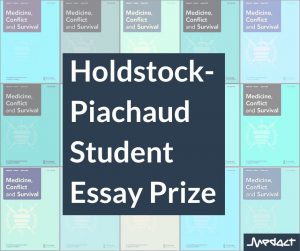 For the last 11 years, the Holdstock-Piachaud Student Essay Prize has given students the opportunity to play an important role in debates around health, peace and violence. Hundreds of students have submitted essays and the winners have seen their essays published in the academic journal Medicine, Conflict & Survival.
This year as the world grapples with COVID-19, the five essay questions for the 2021 Prize cover some of the most pertinent global issues highlighted by the pandemic. It has never been a more important time for students to add their insights, concerns and original perspectives to the academic conversation encouraged by the Essay Prize.
To encourage applications to the 2021 competition, we have reached out to former Prize winners and asked them about their experiences of the process. We hope that the reflections and advice offered by the past winners will encourage the next generation of students to follow in their footsteps.
Ben Paxton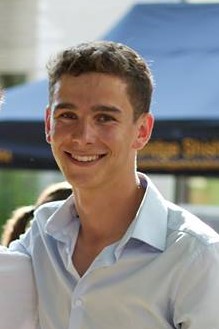 I was in my 4th year of medical school when I came across the Holdstock-Piachaud Prize and one of the essay titles for that year on nuclear disarmament – a topic which I knew was important, yet knew almost nothing about. It was only when I began reading for the essay over Christmas did I realise what a big deal it was.
Healthcare professionals dedicate their careers to saving and improving lives, but here was a threat that could end the lives of millions in an instant, and hospitalise many more over the course of weeks and months. As well as opening my eyes to the disastrous impacts of nuclear weapons, reading for the essay taught me about the rich history of healthcare professionals working towards a world free of nuclear weapons, with the same vigour with which they treat disease.
Writing my entry for the Holdstock-Piachaud Prize gave me the opportunity to deepen my understanding of nuclear disarmament, and how it relates to global health, in a way I never would have otherwise – and I would absolutely recommend entering the H-P Prize to anyone with any interest in human health and security.
Hannah Barker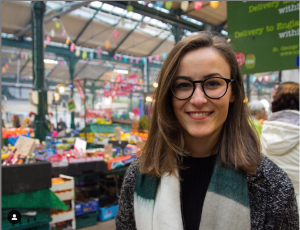 I came across the Essay Prize after completing an MSc in Global Health and saw it as an opportunity to explore topics of interest more in depth. There were multiple essay titles/topics to choose from and I decided to write about economic inequality as I was interested in further discussing the Social Determinants of Health, health equity and political economy. 
This competition allowed me the opportunity to explore these areas of interests by sharing my own perspective and developing my own arguments based on a review of relevant literature. Following the competition, I was delighted that my essay was chosen to be published in Medicine, Conflict and Survival, a journal which focusses on health, peace and violence covering topics such as human rights, humanitarian aid and global security.
Overall, getting involved in the essay competition was a great opportunity to explore my academic interests with the added bonus of achieving a publication, and I recommend any interested students to get involved!
Sana Najafi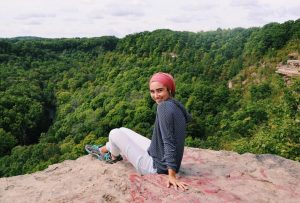 I was studying international development and on a co-op placement in Kenya when I came across the essay competition. The essay topics were intriguing to me, and clearly spoke to my interest in peace and health equity. I decided to pick the topic exploring the intersections between health data on social media platforms and humanitarian crises caused by armed conflict. 
I really appreciated that students were encouraged to think creatively about primary sources of data and use examples from their community to support their arguments. This led me to connect with 'Ushahidi,' an open source software application and non-profit technology company based in Nairobi. The application was initially developed to map reports of violence in Kenya after post-election violence in 2008, but since then has expanded globally to support access to information, often in crisis response and human rights reporting. I spoke with Ushahidi staff and highlighted the software in my essay, which not only strengthened my research and writing skills but also local community connections, which were especially pertinent given that I had just moved to Kenya. 
I'd encourage you to enter the Essay Prize as it will inspire you to learn more about important issues around health, peace and violence, while also shining a spotlight on the unique ways communities and activists mobilise against hardship and challenges.
Daniel Hurt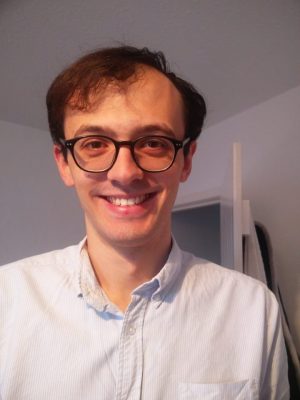 While I was at university I found that the demands of studying Medicine often left little time for other academic pursuits. However, I never regretted spending that time exploring interests in other areas. Writing an essay to submit for the Holdstock-Piachaud Prize therefore seemed like an obvious thing to do, given I could both learn something new, practice my writing, and potentially receive a monetary prize!
I chose the topic of Artificial Intelligence, focusing on its safety and potential to cause harm. This built on some prior interest I had in the area, but I learned a great deal more in the process of putting my thoughts to paper. Engaging in this kind of 'big picture' thinking has useful applications in many professional roles, including Medicine, as well as being intrinsically enjoyable.
 As medics it can be useful to draw on our understanding of the wider world, and the issues covered in the available essay questions will have increasing influence on our work in the coming years. Writing an essay to submit is something I can thoroughly recommend to anyone with any interest in these issues. Go for it!
Fiona Mansfield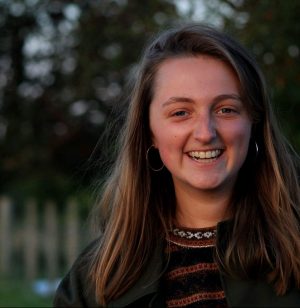 I was mid-way through a masters in Humanitarian Studies, taking a year out of medical school, when I submitted to the competition. I was working on a rather bleak module discussing the climate crisis as a global health crisis and in the search for something positive to take away from it, my friend pointed me in the direction of the Essay Prize.
The essay I submitted discussed the scale of the climate crisis facing us, the theory and history behind tactics of civil disobedience, Extinction Rebellion's principles, and their controversies. Almost a year since writing the essay and entering the competition, my views on Extinction Rebellion have continued to evolve. Topics of climate and activism were not new to me. In recent years I've been involved in the Youth Climate Strikes in Edinburgh, attended Extinction Rebellion meetings and protests, and become increasingly interested in Planetary Health. Having spent so much time reading, listening, and talking about Extinction Rebellion and the climate crisis, it felt like a good time to put my thoughts on paper.
The topics covered by the Holdstock-Piachaud essay competition warrant careful thought, consideration, and reflection. For me, it feels important that we, as students and healthcare professionals, contribute to these discussions. 
Lewis Byrom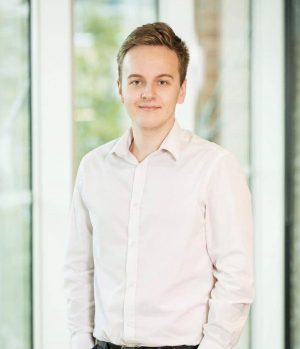 I submitted my essay whilst completing a Masters degree in International Relations. I was interested in how war and inequality interacted, so the Essay Prize offered me an opportunity to explore that outside of the confines of the modules I was studying. Researching and writing the essay allowed me to delve deeper into the academia on inter-group 'horizontal' inequalities; a field which largely informed the direction of my MSc dissertation later that year.
Aside from the writing process itself, the feedback I received from the judges was a valuable tool with which I was able to re-assess and improve my writing style – my best advice for future entrants is that the Medicine, Conflict and Survival audience is broad and diverse, so an essay that gives interesting insights without assuming expert subject knowledge would stand a great chance of being published.
I've also had the fantastic opportunity to join the Board of MCS as a student member, which has involved taking part in quarterly meetings and helping to draft future questions for the Essay Prize. Being part of this has opened my eyes to the breadth of interests that H-P Prize entrants have – insights from just about any subject area can be made part of a great Essay Prize submission. 
You have still got plenty of time to apply for the 2021 Holdstock-Piachaud Student Essay Prize!