Health professionals can be key allies for trans people's equality. One opportunity to do so is by engaging in much needed changes to the existing Gender Recognition Act, which is undergoing consultation until 19th October. Here's a little about how you, as a health professional, can become a trans ally.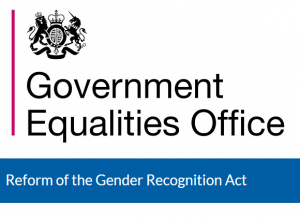 The struggles with the existing Act
Whilst the Gender Recognition Act was progressive for its time (back in 2004), it is now severely outdated. One of the biggest concerns around the GRA process is the requirement for trans folks to be diagnosed with a mental health disorder before being allowed to process their gender registration. While it may indeed be the case that trans folks are disproportionately impacted by mental health conditions, the root causes of these conditions are better identified as symptoms of living in an intolerant society, rather than one of an inherent medical condition.
Trans health inequalities show up in many ways. A study by Trans Mental Health in 2012 found that 11% of transgender people had considered ending their lives at some point in the last year, whilst 33% had attempted to end their life more than once in their lifetime.[modern_footnote]https://www.mentalhealthtoday.co.uk/innovations/identity-gatekeeping-is-deadly-why-we-need-to-stop-platforming-transphobia[/modern_footnote] Research by Stonewall in 2017 shows that anti-LGBT hate crime is rising, further intensifying the environment in which trans and non-binary people survive in[modern_footnote]https://www.stonewall.org.uk/gender-recognition-act[/modern_footnote]. A recent health enquiry in the Commons provides more detail on trans health inequalities. These figures are concerning, but that does not justify pathologising gender dysphoria, as has been done in the GRA.
Dr Kate Nambiar, a sexual health doctor from Brighton, explains the importance of the reform in a recent blog for LGBTQi rights organisation, Stonewall:
'I'm a trans woman and I'm a doctor – I've worked in the NHS since 1999 and I'm really passionate about seeing good healthcare for trans people happen everywhere. We have such a long way to go to achieve that. Professionals tell me that there is very little, if any, education on how best to look after the specific needs of trans people. We need to change this. Reforming the Gender Recognition Act would be an important step to de-pathologising trans identities. For too long we've been labelled as mentally ill or having a 'medical condition'. Our understanding of gender identity has moved on beyond that now. We are not defined by an illness. The right to self-determination of legal gender is something that has been successfully adopted by several countries in the world already. It is about time the UK made that change too.'[modern_footnote]https://www.stonewall.org.uk/people/dr-kate-nambiar[/modern_footnote]
More background
In 2004 the Gender Recognition Act (GRA) came into force, enabling transgender people to receive legal recognition of their acquired gender. However, the bureaucratic, intrusive and expensive nature of the process became evident when it was reported that just 4,910 people legally changed their gender over the past 14 years. This figure is fewer than the number of transgender respondents who very clearly expressed that they wished to legally change their gender in response to the government's LGBT survey. In order to address this issue, the government have opened a consultation on how best to reform the GRA.
Four key issues surrounding GRA process:
A psychiatric report is required that diagnoses Gender Dysphoria before you are allowed to progress to a Gender Identity Clinic

Waiting lists for a Gender Identity Clinic can be up to five years

The registration process includes a fee of £140, a cost that is higher than obtaining a passport or marriage licence, as well as needing to be over the age of 18.

The entire process can be vetoed by a spouse if they do not agree; this can often be used to abuse or control a transgender person.
Some positive moves have been made outside of England. Wales is currently working to end the requirement for a doctor to sign off on an individual's mental health status prior to them being able to transition, whilst Scotland has run a consultation, the result of which is pending. The World Health Organisation removed Gender Dysphoria from its list of mental health disorders earlier this year after realising that classifying it as a mental health disorder perpetuates stigma towards transgender people. These changes only further encourage a much needed review of our existing process for gender recognition. Health professionals can play a vital role in this review.
How to submit to the consultation
Now is the time to act if you would like to have your say in the reform of the GRA. The consultation closes at 11pm on Friday 19th October – so respond now! Stonewall have some top tips for responding to the consultation, with guidance on how to answer each of the questions. You can also help by sharing this information with any friends or family that you believe would want to have their say in this important issue.
Sources: