This piece was written during the peak of the Black Lives Matter movement.
In the wake of BLM protests and the global uprising against racism during a devastating pandemic, we are left thinking about what our society could look like – post hyperawareness of this social injustice following the tragic death of George Floyd in police custody. Conversations are taking place on all levels – individual, organisational and international. Despite the rhetoric widely displayed in our media we must continue to push for positive effective change.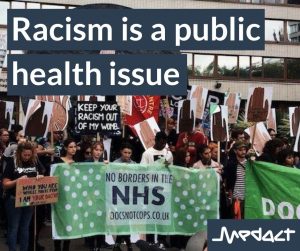 Racism is a public health issue. We know that COVID-19 has disproportionately affected those from Black, Asian and Minority Ethnic (BAME) backgrounds, displaying the intersecting way multiple social categories, including race and socioeconomic status, combine to create disparities in health outcomes.  This troubling disparity has also been perpetuated by lack of access to healthcare and the discriminatory hostile environment resulting in severe burden of disease, which was recently highlighted in Medact's report on Migrants' Access to Healthcare During the Coronavirus Crisis.
The timing of the COVID-19 pandemic and BLM protests have highlighted a desperate need for change.  Angela Davis said: "This moment holds possibilities for change we have never before experienced".
But what possibilities for change could result from this uprising?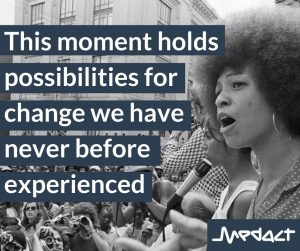 We need to see change in our institutions. There needs to be education on the roots of this systemic injustice that continues into our modern day. We need to know history and understand its fundamental role in creating the structures that perpetuate racism, xenophobia and discrimination.
We need to see an end to the discriminatory hostile environment immigration policies which act as a deterrence to accessing public services and exclude the most marginalised from society. This includes seeing an end to NHS charging regulations which have and continue to cause fear and racial discrimination for people seeking healthcare.
Many are now turning to books and podcasts to unlearn and relearn, and join the movement for equity and justice. However, we must not forget those who have been leading the way and selflessly fighting the cause, despite the unwelcomed responses.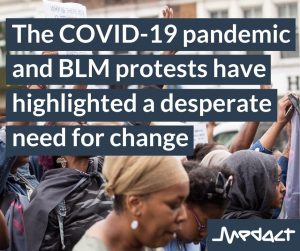 We also need to remember to look after ourselves whilst fighting the good fight against racial and social injustice. If that means taking a break from social media or the news, or taking long walks and listening to deep music *plays Solange – A Seat at the Table*. Recognise that you are not alone in your efforts and that you are entitled to take a break for your wellbeing's sake. Although we must appreciate that not everyone has the privilege of escaping or ignoring racism.
Yes, I am glad that racism and discrimination in our society is being highlighted in all spaces. Yes, I am glad many are engaging in conversations within their circles and helping to dismantle the further perpetuation of harmful biases within their environments. But will this just be an uprising to remember or a revolution for change.
In light of the current situation, we wish to create a blog series based on race and health to further explore this topic. We will be starting with "Perspectives from NHS Workers". If you would like to contribute or share a piece, please do get in touch with us.
Further reading: