In response to the sentencing of 11 Turkish doctors to 20 months in prison for a statement made against the military offensive in Afrin, Syria, Medact has urged the UK Foreign Secretary to take action. 
"War is a man-made public health problem." It is these words, made in a statement on 24 August 2018 by the Turkish Medical Association (TMA) on the Turkish military offensive in Afrin, Syria, that ultimately led 11 doctors and members of the TMA to be sentenced to 20 months in prison.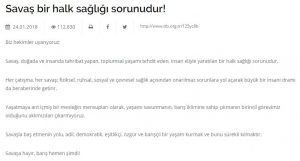 The TMA's statement came after one of the Turkish military's offensives on Afrin in 2018, which led to the deaths of many Kurdish residents, mass displacement and food shortages. And in recent years in Turkey under President Recep Tayyip Erdogan, lawyers, academics, healthcare workers and human rights activists have been facing arrest and imprisonment for allegations of spreading "propaganda in support of terror organisations" or "provoking the public".  
Medact has sent a letter (below) to the UK's new Secretary of State for Foreign and Commonwealth Affairs, Dominic Raab, urging him to take action to put pressure on the Turkish government to free the 11 doctors, to abide by international law with particular regard to freedom of expression and speech, and to respect the rights of doctors to fulfil their professional duties without fear of arrest. 
War is undoubtedly a "man-made public health problem" as the TMA rightly pointed out in their statement in 2018, and it is crucial that people who work in health around the world use their voice to speak out against war and systemic inequalities. And the health community has a duty to stand in solidarity with those healthcare workers – often at the frontlines of violent conflict and human rights abuses – targeted by repressive or violent regimes.
[google-drive-embed url="https://docs.google.com/document/d/1XapIOXOz5pEgrjVv1NvuYnT4_ZMlGcTT-_HVqYzP_kA/preview?usp=drivesdk" title="Copy of Letter to Dominic Raab on Turkish doctors" icon="https://drive-thirdparty.googleusercontent.com/16/type/application/vnd.google-apps.document" width="100%" height="400″ style="embed"]  
Further reading
World Medical Association supports health personnel on trial