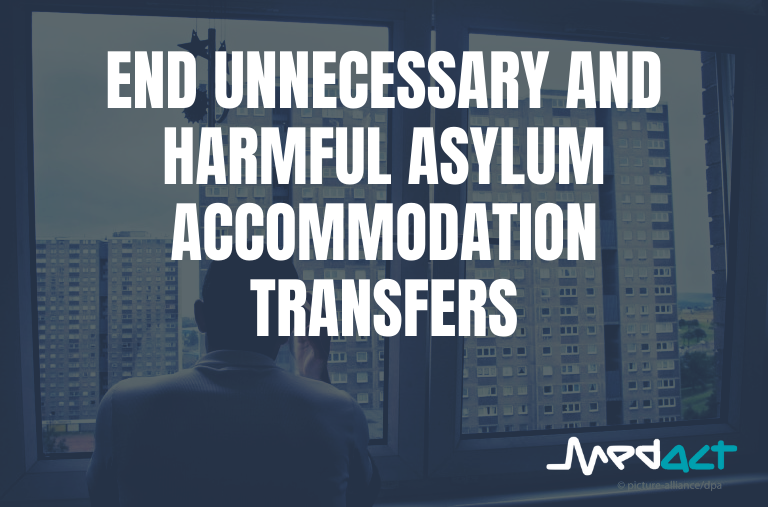 Over 60,000 asylum seekers have been waiting more than six months for decisions about their claims. More than 12,000 of them are being housed at public expense, and subject to apparently random relocation around the UK without adequate (sometimes any) notice to them or their responsible clinicians. This is causing actual harm to them and (during the pandemic) making it harder to protect themselves and their communities from COVID.
This letter was drafted by doctors and nurses who have examined scores of residents in so-called "contingent accommodation". Many of these patients are severely traumatised and/or ill. We consider it our duty to bring their problems to the attention of those responsible for arrangements to ensure their safety.
In brief, we demand that the Home Office and its contracted providers of accommodation for migrants ensure they have continuity of access to medical care, and are not subject to transfers without adequate notice.
We call on all health workers to join us in writing to the Home Secretary. The health community must stand together and oppose policies that are so clearly causing harm.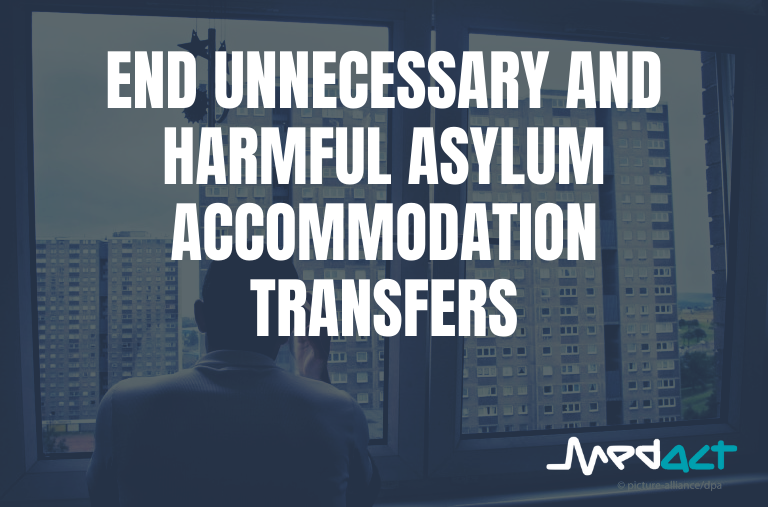 Dear Home Secretary
Your officials say they will "forever feel guilt and responsibility" and that "it will take a long time for us to process" the tragedy of Mohammed Majeedi, the 5 year old Afghan refugee who fell to his death from accommodation provided by the Home Office 1,2. His death is one of many in asylum accommodation3. Every one of these events should provoke reflection and action to prevent further avoidable harm.
More than 60,000 migrants have waited over six months without a decision from your department about their leave to remain in the UK4. The Home Office have a duty to provide housing and subsistence while they are waiting, and not to implement policies and practices which cause avoidable medical harm.
As clinicians, we are all too aware of failures of duty of care and consequent harm our professions have not prevented. We understand the anguish that such failures create for everyone involved. But the purpose of "processing" must be to ensure that no further refugees are avoidably harmed5.
Current practices of the Home Office and its accommodation providers create unnecessary medical harms and risks to asylum seekers, the public health, and NHS services. These go beyond the obvious physical and environmental dangers of specific hotels and other properties, as found by your own inspectors6 and include more directly clinical matters.
Some of us have conducted examinations of numerous asylum seekers housed in "contingent accommodation". Most had been moved from one site to another, often repeatedly, without explanation or reasonable notice. Nor, where they had been able to register with and access NHS services, were their GP practices informed to permit continuity of care.
We can provide documentary evidence of numerous cases where the resulting discontinuities of care were harmful and/or hazardous to these patients. This list includes avoidable and dangerous disruption of access to essential prescriptions including medicines for which abrupt cessation can be life threatening. We have also seen several interruption of crucial investigations and treatment (see for example, ref 7). The process of unheralded transfer clearly poses public health risks to the control of Covid spread, particularly where the person has difficulty registering with a new GP and does not speak English or is unaware of NHS norms. This is all preventable.
The Williams report8 on the Windrush scandal found that "ignorance and institutional thoughtlessness", a "culture of disbelief and carelessness" and "lack of empathy for individuals" were central to the damage inflicted on victims. In response, you told Parliament that "my ambition is for a fair, humane, compassionate and outward-looking Home Office." 9
As part of the "processing" needed to prevent repetitions of the tragedy in Sheffield and the wider harms of Windrush and the hostile environment, we urge you to implement the following humane and compassionate safeguards which would also make it less difficult for health care professionals to do our jobs.
No one accommodated at public expense should be transferred from one location to another without sufficient notice to them and their responsible clinicians to make necessary, medically safe, arrangements.
Clinical concerns about the medical impact of transfer raised by residents, staff or clinicians should prompt a review of transfer decisions.
Onsite contractors should be notified simultaneously with the resident and be required – subject to patient consent – to:

speak with intended transferees, using professional interpreting as needed
ascertain whether the person is currently or was previously registered with a GP,
if so, assist them to inform that practice of their incipient move
ensure that the resident has at least a two week supply of prescribed medication and their NHS number
provide advice about how to register and use the NHS in the appropriate language. See for example https://forrestmls.org/nhs-leaflet/

Transfers should not occur until the above conditions are met. Compliance should be subject to appropriate incentives and monitoring, and that data published.
On arrival in new accommodation, residents should be given locations of community health services local to them and assistance with registration, including, where required, interpreting. To facilitate prompt registration and access to care, they should be provided with proof of address and an HC2 certificate.
Where death or other critical incidents occur in asylum accommodation, these should always be investigated and the findings published.
Yours sincerely,
The undersigned
References
Six o'clock news BBC Radio 4, at 1810h on 24/08/2021
Afghan boy, 5, fell from Sheffield hotel onto car park roof, inquest told — The Guardian, 25 August 2021
More than 50 died in Home Office asylum seeker accommodation in past five years — The Guardian, 25 July 2021
Revealed: shocking death toll of asylum seekers in Home Office accommodation — The Guardian, 15 December 2020
An inspection of the use of contingency asylum accommodation – key findings from site visits to Penally Camp and Napier Barracks
Health consequences of current arrangements for accommodation of migrants in army barracks: a preliminary survey — As submitted to the Home Affairs Select Committee of the British House of Commons on 16/02/2021