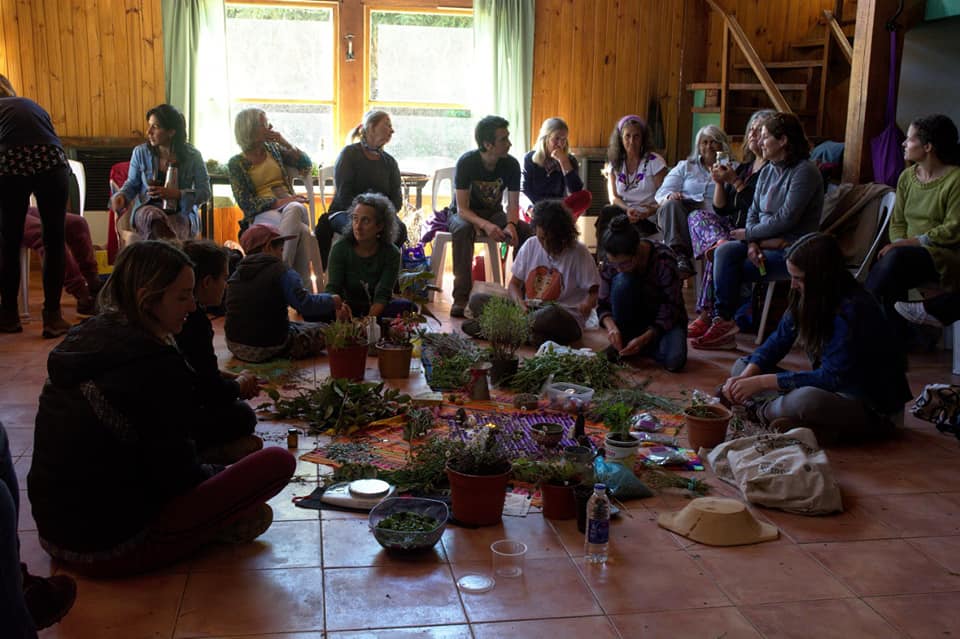 RED JARILLA DE PLANTAS SALUDABLES DESDE LA PATAGONIA
Somos guardianes de vida acuerpando el Küme Mongen (Buen Vivir). Gente hermanada, vinculada con los dones de las plantas, sin fines de lucro… sí en gratitud y reciprocidad.
Somos círculo que nos iguala, que reactiva memorias ancestrales y nos fortalece para el cuidado de los territorios, del agua, de las semillas.
Somos rizomas: no sabemos cuántas, pero siempre brotamos aquí y allá.
Somos insectos: zumbamos y picamos molestando, pero también besamos las flores y libamos su dulzura. Hacemos trabajo de hormiga y también volamos como panaderos de dientes de león a compartir causas otras.
Y aunque la digna rabia tantas veces sea el motor que nos moviliza, preferimos hacer viditancia desde la alegría y el placer. Así nomás… tranquilitas y constantes, hace ya unos veinte años de andanzas y juntanzas colectivas. Salud!
Desde territorio ancestral mapuche
Red Jarilla de Plantas Saludables de la Patagonia
Primavera de 2021
JARILLA'S NETWORK OF HEALTHY PLANTS FROM THE PATAGONIA
We are the guardians of life, supporting the Küme Mongen (Good Living). We are twinned people/women, linked to the gifts of plants, not for profit… but in gratitude and reciprocity.
We are a circle that makes us equal, that reactivates ancestral memories and strengthens us for the care of the territories, of the water, of the seeds.
We are rhizomes: we do not know how many, but we always sprout here and there.
We are insects: we buzz and sting annoyingly, but we also kiss the flowers and release their sweetness. We do ant work and also fly like dandelion bakers to share causes with others.
And although dignified rage is so often the engine that moves us, we prefer to do viditancia (lifeactivism) from joy and pleasure. Just like that… quiet and constant, for about twenty years of collective wanderings and gatherings. HEALTH!
From Mapuche ancestral territory
Jarilla Network of Healthy Plants of Patagonia
Spring of 2021