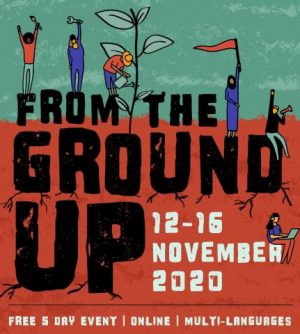 This November, COP26 was due to take place in Glasgow. To mark this moment, the COP26 Coalition is hosting From the Ground Up – a global gathering providing the space to educate, strategise and co-ordinate, to build power and connect within our global justice movements. This is an opportunity for Scottish, UK, European and international climate justice movements to build momentum and capacity, and to connect to broader civil society to build power for system change.
We are excited to be organising an event at the global gathering on Monday 16th November, 18:00 to 19:30 –  Why Health Justice Means Climate Justice. 
Register your place for Why Health Justice Means Climate Justice
Why Health Justice Means Climate Justice
Covid-19 has brought into consciousness the deep pre-existing health inequalities. It has highlighted how our health is shaped by the wider social, economic and environmental conditions in which we live. At the roots of health injustice is an extractive, economic system that serves to concentrate power in the pursuit of profit through the exploitation of people and the planet. This is the same system that is driving climate breakdown. This panel discussion seeks to reflect on the connections between health and the climate, the public health impacts of extractive industries and how the Green New Deal can also be a Public Health New Deal.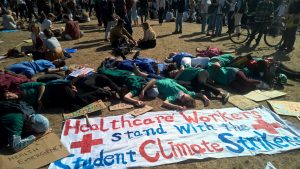 We will be hearing from voices across the world as to how we build the health movement for transformative climate justice. There will be space for questions and deeper reflection for how we organise from the ground up in the lead up to COP 26. Join us as we explore why health justice means climate justice. 
Speakers:
Dr Rita Issa, GP Trainee, Climate & Health Activist (Chair)
Dr Alice Gardner, GP & Medact Member
Araceli Camargo, science lead for Centric Lab, who use neuroscience to focus on improving public health & health justice
Erika Arteaga-Cruz, doctor & health campaigner with the People's Health Movement Extractive Industries Circle
Sophie Gepp, Medical Student and member of Health for Future
If you want to help us build the health movement for transformative climate justice, you can join our Climate & Health Group: