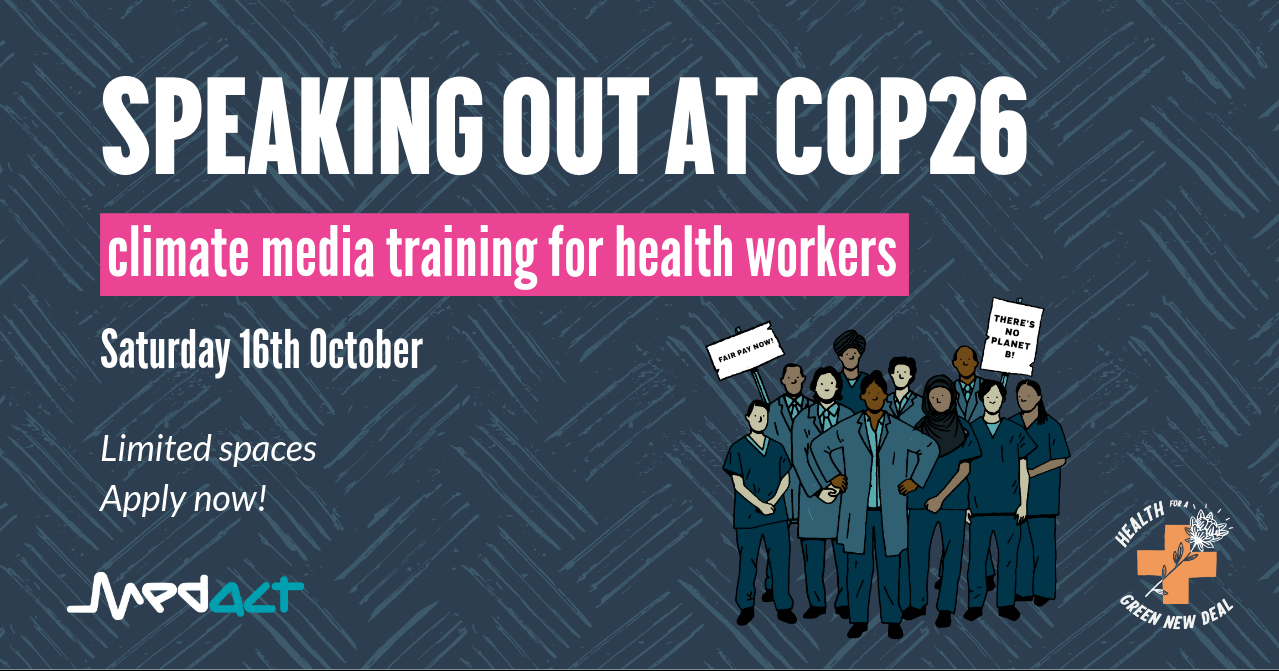 As world leaders meet to discuss our future at the COP 26 climate talks, health workers from across the UK will take action to demand the transformative changes we need to win both health justice and climate justice. Ahead of the conference, Health for a Green New Deal is running a day-long, specialised spokesperson training for health workers who are keen to speak out to the media.
Giving comments and broadcast interviews to the media can seem daunting, but health workers speaking out can be a powerful way to get our messages across to huge sections of the public. Confidence is key, and this training will help you to feel prepared and ready to speak out with impact – at COP 26 and beyond!
The training, led by Dr Rita Issa, will go through the fundamentals of speaking to the press, preparing for interviews to make sure you nail your messaging, and we will run practice interviews with feedback from your peers.
There are 12 places on this training, and we will prioritise places for people from the health community who are marginalised, from communities who are under-represented in the media. If you are interested in attending, please apply by telling us a bit about yourself in the form.
If you have any questions, get in touch with us on [email protected]
About the lead trainer
Dr Rita Issa is a GP, academic and activist. She's appeared on the BBC, ITV, Sky News, Al Jazeera and Novara Media, among others, and has trained through a number of media and communications groups, including as part of the NEON spokesperson network. She's led on a number of social media campaigns, making millions of impressions across platforms like Twitter and Tumbler, and is a columnist for the Independent, most recently writing a series from her time aboard the Greenpeace ship Arctic Sunrise. www.drritaissa.com | @DrRitaIssa