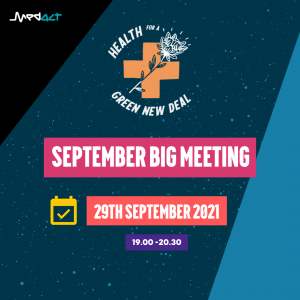 Join us for the September Big Meeting of the Health for a Green New Deal campaign! We'll be hearing updates on what different groups across the network have been up to and how you can get involved.
After the August Movement Builder's session on 'what's the deal with COP 26', we'll be discussing and planning together how we are organising and taking action during the COP 26 climate talks.
The meeting will be online on Zoom, starting at 19:00 – look forward to seeing you there.