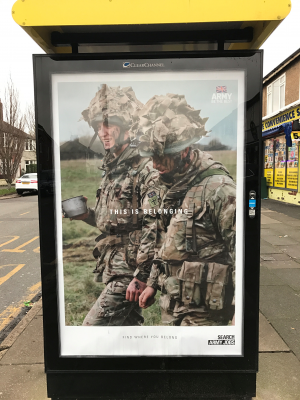 Please join us for an evening of discussion and exploration of our new report Selling the military: A critical analysis of contemporary recruitment marketing. The report is a joint project between Medact and ForcesWatch that analyses the way the armed forces market their careers to adolescents and young people. Throughout the evening we will review how military marketing campaigns create powerful messages that at times exploit developmental vulnerabilities and social inequality, risking the health and well-being of recruits.
Chair
Dr Victoria Basham, of Cardiff University, is Editor-in-Chief of the Critical Military Studies journal (Taylor & Francis) which she also co-founded, and co-editor of the Edinburgh University Press book series, Advances in Critical Military Studies. Victoria is the President of the European International Studies Association. Her research focuses on issues of gender, race, class and sexuality in relation to militaries, militarism and militarisation.
Speakers
Dr Guddi Singh, is a paediatric doctor at the East London NHS Foundation Trust. She is the co-author of a forthcoming BMJ article written about Medact's work on child recruitment to the military. She is a member of the Royal Society of Medicine Paediatrics and Child Health Section Council, and recently presented a three part TV programme on BBC2 called 'Babies: Their Wonderful World.'
Rhianna Louise is co-author of the Selling the Military report, with colleague Emma Sangster. She works on Education and Outreach at ForcesWatch. Rhianna researches and writes around military recruitment in the UK, particularly the recruitment of young people, and on human rights and ethics issues related to the military. She previously coordinated the publication and was the lead author of Medact's report on health concerns about recruitment children into the military.
Rhiannon Spear is a law student, and a Glasgow councillor with the Scottish National Party. In 2017 as National Convenor of Young Scots for Independence, the youth wing of the SNP, she led a successful motion to make raising the military recruitment age to 18 SNP party policy. Rhiannon is also the chair of the TIE campaign, an organisation campaigning for LGBT-inclusive education in Scottish Schools. She is a passionate activist known for speaking out about inclusivity and systemic sexism.
The evening will open for a reception with refreshments at 6.30pm and we will begin the discussion at 7.00pm on Wednesday 27th February. The event will be recorded, so please inform us if you would prefer not to be filmed or photographed. Copies of our new report will be available at the event. The venue is ramp accessible, and there is an accessible toilet available by lift on the first floor. Please inform us if you need anything else to be able to attend this event.
Medact is a global health charity that uses evidence-based campaigns to support health workers to take action on structural barriers to health equity and justice, in an effort to bring about a world in which everyone can access their human right to health.
ForcesWatch is an independent research and campaigning organisation which scrutinises armed forces recruitment practices in the UK and challenges efforts to embed militarist values in civilian society.