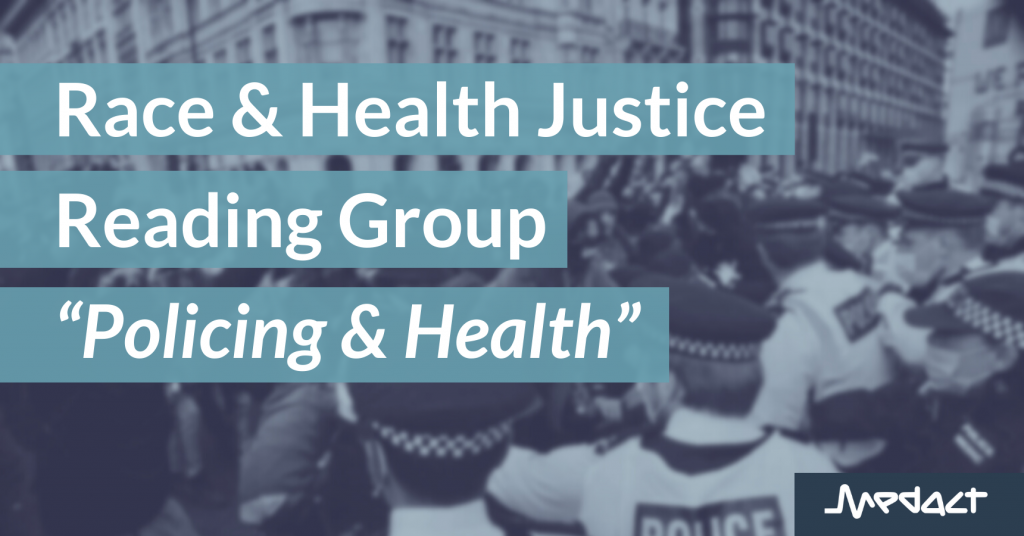 In our next reading group we shall discuss a short paper exploring the impacts of policing on public health, defunding the police and the abolitionist approach to public health: Deivanayagam TA, Lasoye S, Smith J, et al Policing is a threat to public health and human rights BMJ Global Health 2021;6:e004582 
We invite participants to engage with two sets of questions: group A and group B questions. Group A questions are mostly for your personal reflection and you won't be asked to share your responses during the reading group unless you choose to do so in a breakout room. Group B questions are the issues we will certainly reflect on during our time together.
Group A questions:
How do you instinctively react to the police? How does your community/people you associate with mostly react to the police?
How have your past experiences (direct or indirect) with the police informed your opinion of them?
Group B questions:
How do you encounter policing in your workplace?
What are your views on defunding the police/reallocation of funds as a solution?
Practicalities and accessibility:
We will circulate our group ground rules when you sign up, and ask that you only join us if you are happy to commit to these principles.
Please read the article ahead of the reading group. If you would like an audio version, or to read it collectively with others before the group, please email us.
We expect most attendees will be people working in healthcare, but the group is open to all.
The reading group will be on Zoom – we will run through logistics at the start of the meeting, but if you are new to Zoom there is a user guide here. The zoom application will download automatically when you click on a meeting link for the first time.
We can provide captioning and/or BSL interpreting, please email us
You are welcome to have your camera on or off, and to eat during the session, but please do come willing to contribute to the discussion!
We will have a scheduled break halfway through.
We will cap numbers in order to have a small and active discussion.
Please let us know if there is anything else we can do to support you to attend.
If you have any queries prior to the event please feel free to email us: [email protected]
If you are unable to join this session, please do join our mailing list to hear about future events and how to get involved.
Please register to join us