Monday 22nd May
@
7:00 pm
–
8:30 pm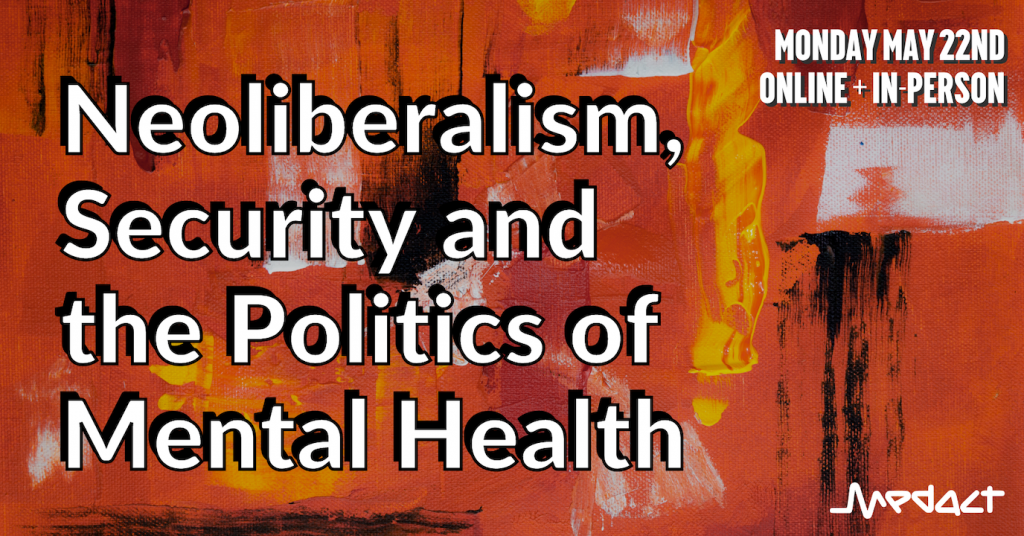 The fields of mental health hold the potential to depoliticise experiences that are deeply connected to our social, political and economic environments. By focusing on individual conditions, we risk disregarding those root causes, such as poverty, racism and oppression.
Mental health disciplines are not apolitical fields, and may fail to interrogate the boundaries and limitations of medicine, psychiatry and psychology. Spaces that should centre care and patient autonomy can double as places of producing "loyal, low-risk and productive citizens" (The Muslim, State and Mind). This depoliticisation of mental health disciplines is particularly relevant for racialised minorities, like Muslims.
We're excited to host a panel discussion with clinical psychologist, academic and author Tarek Younis (The Muslim, State and Mind: Psychology in Times of Islamophobia, 2022), Securitisation of Health group member and trainee psychiatrist Mashal Iftikhar, and Medact's Research Manager Hil Aked whose current project Criminalising Distress explores the harmful impact of policing in mental health care.
Using case studies and experiences, our panel will explore the alleged "apolitical" position of psychiatry and psychology; how psychological theories and practices can work to serve State interests and perpetuate racism and inequality; how austerity and the political economy can cause and exacerbate a population's poor mental health; and whether the solutions to our mental health crisis can even be found in mental health spaces. They will touch on the increasing securitisation of supposed spaces of care, and the harmful impacts to public health of pressure on providers to report and surveille their patients.
We hope to create a space of collective exploration and expansion of our understanding of individualised "mental illness" and treatments and cures beyond the boundaries of clinical pathology. We would encourage anyone interested in the research, policy or practice of mental health, the securitisation of health, as well as anyone with lived experience of mental illness to attend. Following the panel discussion there will be time for audience questions.
We're at capacity for in-person attendance.
For those who have been confirmed as attending in-person, the venue has been changed to the Human Rights Action Centre, 25 New Inn Yard, London EC2A 3EA (map) just 5 minutes from Medact.