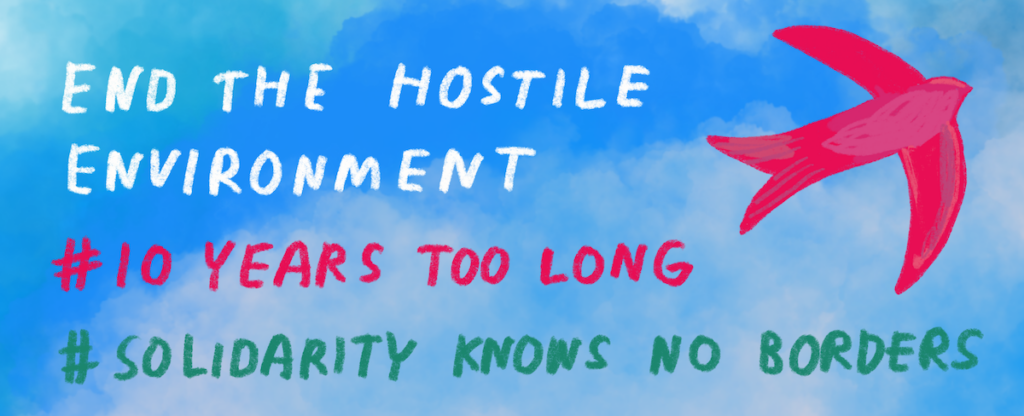 The system is not broken: UK borders are hostile by design.
10 years since the introduction of the Hostile Environment, the Solidarity Knows No Borders Community of Resistance (comprising over 60 grassroots organisations including #PatientsNotPassports) are calling for a national Week of Action to #EndtheHostileEnvironment, from the 13 to 19 June.
If you are ready to stand up and fight back, join us for the launch rally on May 25, where we will hear from speakers on the frontlines of the fight for migrant and racial justice.
Speakers include:
Andrea Martinez – Kanlungan Filipino Consortium
Asad Rehman – War on Want
Ed Wong – IWGB
Erfan – Former Resident of Napier Barracks
Gracie Mae Bradley – organiser and co-author of "Against Borders"
Loraine Mponela – Coventry Asylum and Refugee Action Group (CARAG)
Mariam Yusuf – Women Asylum Seekers Together (WAST) Manchester
Marissa Begonia – Voice of Domestic Workers
Mary Atkinson – JCWI
Maya Goodfellow – journalist and author of "Hostile Environment: How Immigrants Become the
Scapegoats"
Polish Migrants Organise for Change (POMOC)
Nanou – Abolish Reporting Campaign
Rossana Leal – The Refugee Buddy Project
Simba Mujakachi – Justice for Simba Campaign
Tipping Point UK
Veeca Smith – These Walls Must Fall
West London Resistance Collective
Zita Holbourne – BARAC UK
Zrinka Bralo – Migrants Organise