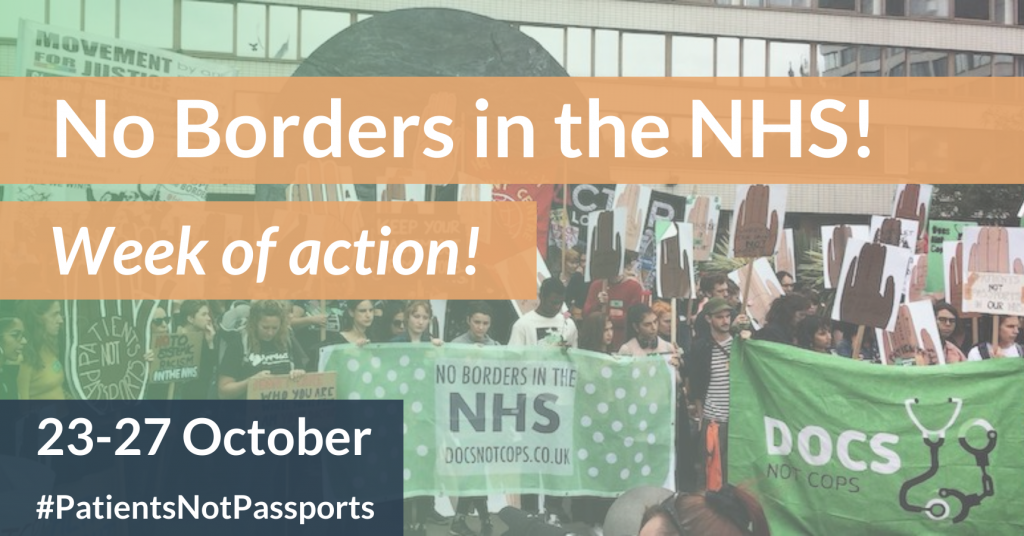 The Hostile Environment is turning the NHS into the new frontier of border control. Join us as we take action against patient charging and demand an end to borders in the NHS!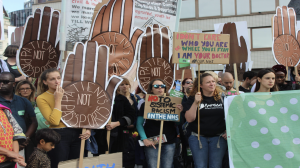 Hostile Environment immigration policies are undermining the founding principles of the NHS. People are turned away from the healthcare they need. People are turned away from the healthcare they need. Immigration checks are becoming normalised in receptions and wards across the country. NHS hospitals routinely share patient data with the Home Office. People are harassed by debt collectors for huge bills they will never be able to pay.
Save the dates! No Borders In The NHS: Week of Action, 23-27 October. People all over the country will take action across five themed days of action, more info to follow!
We must remember all those whose lives have been devastated by border controls in healthcare, continue to resist through collective organising in hospitals and workplaces, and stand in solidarity with all those who are impacted by the hostile environment. Join us!
No Borders In The NHS: Week of Action, 23 – 27 October
People all over the country will take action across five themed days.
Saturday 23rd – Remember and Resist!
We begin by remembering and honouring all those whose lives have been destroyed by racist Hostile Environment policies. October 23rd marks four years since the introduction of upfront charging for migrants in the NHS, and two years since the deaths of 39 Vietnamese migrants who were found in a lorry in Essex.
Today we remember Nasar Ullah Khan, who died after being denied treatment for heart failure. We remember Elfreda Spencer, who died because she could not pay £30,000 upfront for chemotherapy. We remember Kelema Mulat, who died following a 6 week delay in breast cancer treatment. We remember Elvis, who died of coronavirus without help because he was too scared of being charged or deported if he came forward for treatment. We remember all whose lives have been made disposable at the hands of Britain's hostile border controls—their bravery, their struggles to survive and their campaigns for a better world.
Join campaign groups across the country holding street stalls and vigils:
London:
12 noon – 1pm @ Lewisham Hospital A&E, SE13. With Save Lewisham Hospital Campaign, Lewisham Refugee and Migrant Network and Lewisham Citizens
12 noon @ Whitechapel Underground Station. With Tower Hamlets Keep Our NHS Public
12 noon @ Dalston Farmers Market, St Paul's Church, N16. With Hackney Patients Not Passports, Hackney Keep Our NHS Public, Akwaaba, and Feminist Fightback
6pm @ Walthamstow Town Square, E17. With Waltham Forest Patients Not Passports, Waltham Forest Save Our NHS, and Waltham Forest Migrant Action
Brighton & Hove:
5.30pm @ Peace Statue, Hove Lawns, Hove. With Brighton Medact
Manchester:
Midday @ St. Mary's Hospital, Oxford Road (opposite the Whitworth Gallery), Manchester, M13. With Greater Manchester Patients Not Passports, Manchester Keep our NHS Public, Medact Manchester, and The Greater Manchester Immigraiton Aid Unit
Rally against the Nationality & Borders Bill. 2pm @ St Peter's Square, Manchester, M2 5PD. With NW Unison, NW NEU, Greater Immigration Aid Unit, Lancashire Association Trades Union Councils(LATUC), Greater Manchester Association Trades Union Councils, NW Unison Black Members Committee, NW TUC Black Members Committee, Status Now, and RAPAR.
Sun 24th – Free for All Forever: No to Privatisation
The introduction of Hostile Environment immigration policies into the NHS goes hand in hand with a wider project of privatising our healthcare system and erosion of its founding principle: that healthcare is a right and should be available to everyone, regardless of ability to pay or where you're from. The 2017 introduction of upfront charging in the NHS marked one of the most profound changes since it was established, forcing NHS Trust to withhold care from people that cannot pay. The new Health and Care Bill, currently being debated in Parliament will further open the door to privatisation and the undermining of our health system as we know it.
Read this article by Keep Our NHS Public campaigner, Alia Butt, and help us share Docs Not Cops' video outlining what is happening to the NHS. 
Mon 25th – Solidarity Knows No Borders: End the Hostile Environment
Today we stand in solidarity with everyone impacted by the Hostile Environment and the racism of border controls. From schools, to housing, to healthcare, the Hostile Environment seeks to destroy lives and undermine access to vital public services. At the same time, the Government's new Borders & Nationality Bill – also known as the #AntiRefugeeBill – seeks to create a two tier system for people seeking safety, normalise offshore migrant prisons, and limit migrants' access to justice.
Today we will highlight that the immigration system is not broken – it is violent and hostile by design. We will stand with all campaigning for an end to the Hostile Environment in its entirety.
In London, there will be a street stall outside St Thomas' Hospital to talk to NHS staff about The Hostile Environment and how it will impact their work:
7:30pm – 9pm @ St Thomas' Hospital, Westminster Bridge entrance, SE1. With Lambeth and Southwark Patients Not Passports
In Sheffield, there'll be a street stall outside the Royal Hallamshire to talk to NHS staff about the Hostile Environment, raise awareness about the Justice for Simba campaign, and find out how to get more involved with the movement for migrant justice:
4pm @ Royal Hallamshire Hospital, Sheffield, S10. With Medact Sheffield, The Justice for Simba Campaign, South Yorkshire Migration and Asylum Action Group
In Newcastle, there'll be a street stall outside Royal Victoria Infirmary to talk to NHS staff about The Hostile Environment and how it will impact their work:
8am – 9:30am, Monday 25th @ Royal Victoria Infirmary, Newcastle, NE1. With Keep Our NHS Public North East and Medact North East
Tuesday 26th – Organise To Win
The Hostile Environment seeks to turn those who care and support the most marginalised in our society into border guards. This is what we must remember when we build our campaigns against racist immigration controls in our public services. The Department of Health will only listen when we organise in our workplaces and in our communities, to raise collective awareness about what is happening under the Hostile Environment and together refuse to be complicit in this system.
It will take all of us to win. That means everybody the Hostile Environment tries to recruit as a border guard, we must now recruit to our campaign: to be fighters for justice and to stand up for everyone's right to healthcare. NHS workers have a particular role to play to advocate for patients facing increasing barriers to care and to protect the universal principles that underpin the NHS.
Look out for a list of street stalls and leafleting at hospitals and town centres near you, with information about how you can join the campaign wherever you are.
London:
7:30am – 9am @ St Thomas' Hospital, Westminster Bridge entrance, London SE1. With Lambeth and Southwark Patients Not Passports.
Leeds:
7:30 – 9am @ Leeds Infirmary, Jubilee Wing main entrance, Leeds, LS1. With Leeds Keep Our NHS Public
Brighton:
7.45am and 4.45pm @ Royal Sussex County Hospital, BN2
4.45pm @ Millview Hospital, BN3
Time TBC @ Princess Royal Hospital, BR6
Time TBC @ Eastbourne District General Hospital, BN21
Wednesday 27th – No Borders In Healthcare
Our NHS was founded on the principle of universal healthcare, free at the point of use for everyone – regardless of background, nationality, or ability to pay. The government's Hostile Environment means this is no longer the case. What we see as a result is people deterred from seeking the care they need, outright denied treatment on the basis of the documents they have, questioned about their entitlement to care because of how they look, the colour of their skin, or their so called 'foreign sounding name', and people being forced to choose between incurring huge debts, regularising their immigration status, or their good health.
Today we join forces across the country to make our message clear: no borders in healthcare. The NHS must treat #PatientsNotPassports.
If you're in Newcastle join their banner drop:
8:30am @ The Dome, Whitley Bay, Newcastle. With North East Keep Our NHS Public, and Medact North East
In Liverpool, campaigners from Merseyside Solidarity Knows No Borders will be out in the town centre talking to people about the impact of NHS charging and how to join the Patients Not Passports campaign:
Midday @ Liverpool Town Centre (close to Iceland on Kensington). With Merseyside Solidarity Knows No Borders.
In Bristol, there'll be a demo in the town centre calling for an end to NHS Charging and the Hostile Environment:
We'll let you know how to participate online on the day! Get in touch at [email protected] to help get the message out on Wednesday morning.