ICAN UK is celebrating its Nobel Peace Prize win. What better way to do this than to have a demonstration highlighting the humanitarian consequences of nuclear weapons, drawing awareness to the UN's shiny new treaty making nukes illegal and having a bit of a get together outside the MoD?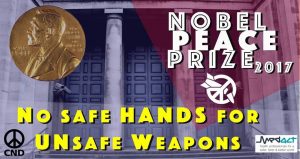 This action is being hosted by two of ICAN UK's partner organisations, us and Campaign for Nuclear Disarmament. All ICAN UKers and anti-nuclear weapons enthusiasts welcome!
There are no safe hands for unsafe weapons. Let's show the British government that we know this and they should too.
Come along and bring your anti nuke, anti Trident placards, stand behind the ICAN UK banner, dress up as medics/ emergency responders to make the point that if a nuclear bomb dropped, the emergency services would be crippled.