On April 9th, we're holding a Health Through Peace Skillshare, where you can gain some campaigning skills and connect with the current Health Through Peace action groups.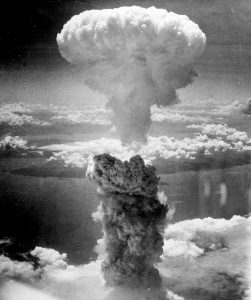 10.00 – 10.30: Welcome and Introductions Please bring an item/photograph to share that speaks to you personally about the health peace movement, or your involvement/interest in campaigning/activism.
10.30 – 12.30: Nuclear Weapons: Campaigning effectively as health professionals With speaker training from Rebecca Sharkey (ICAN) and a discussion on nuclear weapons and health led by Frank Boulton (Medact)
The detonation of just one nuclear weapon in or over a city, whether by accident or design, would have utterly devastating health consequences. The most immediate effects are heat and blast, which immediately kill tens of thousands near the epicentre and affect more tens of thousands lucky enough to be a little further out or relatively sheltered. In addition, powerful X-rays can cause acute radiation syndrome which, even in the absence of physical injuries, can kill within hours or days. Finally, highly radioactive 'fission products' within the mushroom cloud fall out onto ground downwind from the detonation, causing further radiation damage to exposed people and animals. Even those who have no physical injury are at higher risk of contracting leukaemias or other cancers in later life. Devastation of local health facilities mean that there will be no effective health care system for the survivors.
At this workshop, you can learn more about how to campaign effectively about nuclear weapons as members of the health community.
12.30 – 13.30: Bring and Share lunch
13.30 – 15.00: Health vs. the Arms Trade Campaigning workshop led by Campaign Against the Arms Trade: UK-made weaponry has played a central role in Saudi Arabia's attacks on Yemen. The UK has continued to support Saudi air strikes and provide arms– an astonishing £2.8 billion since the bombing started – despite strong evidence that war crimes may have been committed. Homes, schools and hospitals have been bombed, and CAAT is pursuing legal action against the UK government unless it stops arming Saudi Arabia. Join us to find out more about the UK arms trade and arms sales to Saudi, and get some practical ideas for action you can take to help to stop arming Saudi. 
15.00: Coffee/Tea break 15.30 – 16.00: Update from the  Medact Refugee Solidarity Group! 16.00 – 16.30: Reflections on the day and next steps! Please contact Rhianna at [email protected] if you would like to come!