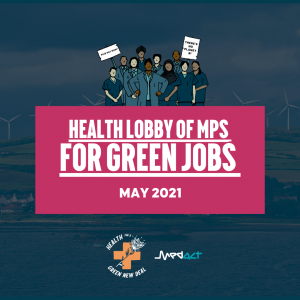 Why green jobs?
As many as 1.9m jobs are at risk of being lost permanently as a result of the impacts of the pandemic. It is vital that the Government now intervenes to invest in job creation, but if our recovery only increases emissions, we will only pivot from one crisis to another: Climate Change.
Creating new, secure, well-paid green jobs has to be a priority if we are to build a healthy and sustainable recovery post-COVID. Research by Green New Deal UK shows that, with the right investment, the Government could create as many as 1.2m green jobs over the next two years alone.
Green jobs aren't just what we might traditionally expect: people in hard-hats building wind turbines. They're also jobs in vital, low-carbon, sectors such as education and healthcare. By focusing on such key industries, a green recovery can help us tackle staff-shortages in the NHS at the same time as fighting the climate crisis!
How do I join the lobby?
Sign up via the form. After registering you will receive a link to our digital action guide that sets out the steps on how to set up a meeting with your MP and then prepare for it. We will then be in touch to make sure you linked up with other health workers/students in your area interested in joining the lobby.
I'm feeling a bit unprepared to lobby my MP….
There will be some resources to help you in the action guide, including a template letter to use to send to your MP and a DIY workshop plan on lobbying MPs that you can look at together with your group. We will also be running MP lobbying training sessions together with Hope For Future on 12th April and 22nd April – you can sign up for these via the registration form.